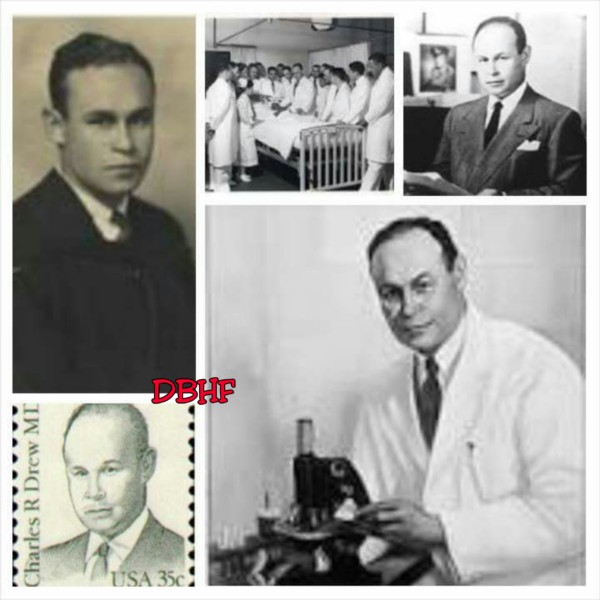 Free clinic at the John A. Andrew Memorial Hospital in Tuskegee, Alabama. For the 1950 Tuskegee clinic, Drew and three other black physicians decided to drive rather than fly. Drew was driving around 8 a.m. on April 1st. Still fatigued from spending the night before in the operating theater, Drew lost control of the vehicle. After careening into a field, the car somersaulted three times. The three other physicians suffered minor injuries.
Drew was trapped with serious wounds; his foot had become wedged beneath the brake pedal. When reached by emergency technicians, Drew was in shock and barely alive due to severe leg injuries. Drew was taken to Alamance General Hospital in Burlington, North Carolina. He was pronounced dead a half hour after he first received medical attention.
Drew's funeral was held on April 5, 1950, at the Nineteenth Street Baptist Church in Washington, DC.
Charles Richard Drew was a physician, surgeon, and medical researcher. He researched in the field of blood transfusions, developing improved techniques for blood storage, and applied his expert knowledge to developing large-scale blood banks early in World War II. This allowed medics to save thousands of lives of the Allied forces. The research and development aspect of his blood storage work is disputed.
As the most prominent African-American in the field, Drew protested against the practice of racial segregation in the donation of blood, as it lacked scientific foundation, an action which cost him his job.
In 1943, Drew's distinction in his profession was recognized when he became the first black surgeon selected to serve as an examiner on the American Board of Surgery.
Read about his legacy & awards at: Daily Black History Facts