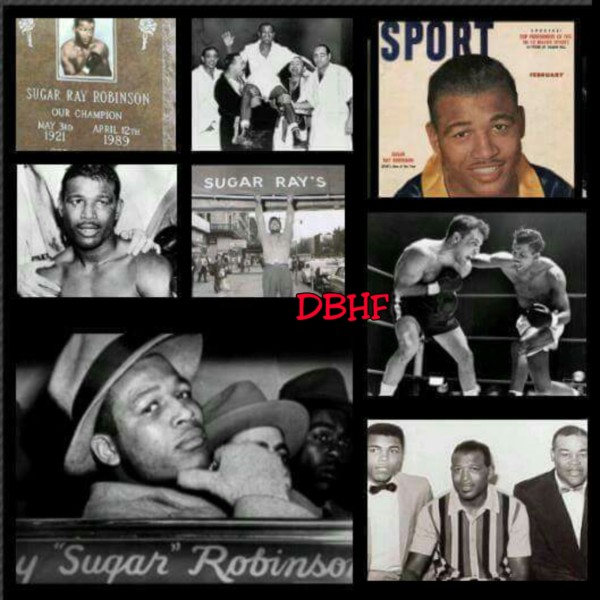 Sugar Ray Robinson died in Los Angeles at the age of 67 and was interred in the Inglewood Park Cemetery, Inglewood, California.
Robinson's last years, he had been diagnosed with Alzheimer's disease.
In his autobiography, Robinson states that by 1965 he was broke, having spent all of the $4 million in earnings he made inside and out of the ring in his career. A month after his last fight, Robinson was honored with a Sugar Ray Robinson Night on December 10, 1965 in New York's Madison Square Garden. During the ceremony, he was honored with a massive trophy. However, there was not a piece of furniture in his small Manhattan apartment with legs strong enough to support it.
Sugar Ray Robinson (born Walker Smith Jr.) was a professional boxer. Frequently cited as the greatest boxer of all time, Robinson's performances in the welterweight and middleweight divisions prompted sportswriters to create "pound for pound" rankings, where they compared fighters regardless of weight.
He was inducted into the International Boxing Hall of Fame in 1990.
Robinson was 85–0 as an amateur with 69 of those victories coming by way of knockout, 40 in the first round. He turned professional in 1940 at the age of 19 and by 1951 had a professional record of 128–1–2 with 84 knockouts. Robinson held the world welterweight title from 1946 to 1951, and won the world middleweight title in the latter year. He retired in 1952, only to come back two and a half years later and regain the middleweight title in 1955. He then became the first boxer in history to win a divisional world championship five times, a feat he accomplished by defeating Carmen Basilio in 1958 to regain the middleweight championship.
Robinson was named "fighter of the year" twice: first for his performances in 1942, then nine years and over 90 fights later, for his efforts in 1951.
Renowned for his flamboyant lifestyle outside the ring, Robinson is credited with being the originator of the modern sports "entourage".
Robinson was elected to the International Boxing Hall of Fame in 1967, two years after he retired. In the late 60s he acted in some television shows. An episode of Land of the Giants called "Giants and All That Jazz" had Sugar as a washed up boxer opening a nightclub.
In 1969 he founded the Sugar Ray Robinson Youth Foundation for inner-city Los Angeles area. The foundation does not sponsor a boxing program.
After his boxing career ended, Robinson attempted a career as an entertainer, but struggled, and lived in poverty until his death in 1989.
Read about his amazing legacy at: Daily Black History Facts