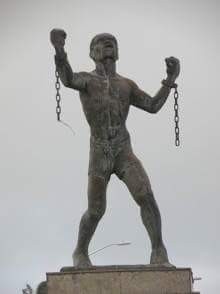 The rebellion was the first of three large-scale slave rebellions in the British West Indies that shook public faith in slavery in the years leading up to emancipation.
Bussa was an African-born Barbadian slave who in 1816 led a slave uprising in Barbados popularly known as Bussa's Rebellion.
Bussa was born a free man in West Africa, and it is possible that he may have been either Igbo, or of Akan descent and was captured by African slave merchants, sold to the British, and brought to Barbados in the late 18th century as a slave. Not much is known about him and there are no records of him prior to this date. Since slave owners almost never bothered to keep detailed records about the lives of their slaves (who were considered property), virtually no biographical information about Bussa is available.
Records show a slave named "Bussa" worked as a ranger on 'Bayley's Plantation' in the parish of St. Philip around the time of the rebellion. This privileged position would have given Bussa much more freedom of movement than the average slave and would have made it easier for him to plan and coordinate the rebellion.
Read about the Rebellion and it's legacy at: Daily Black History Facts