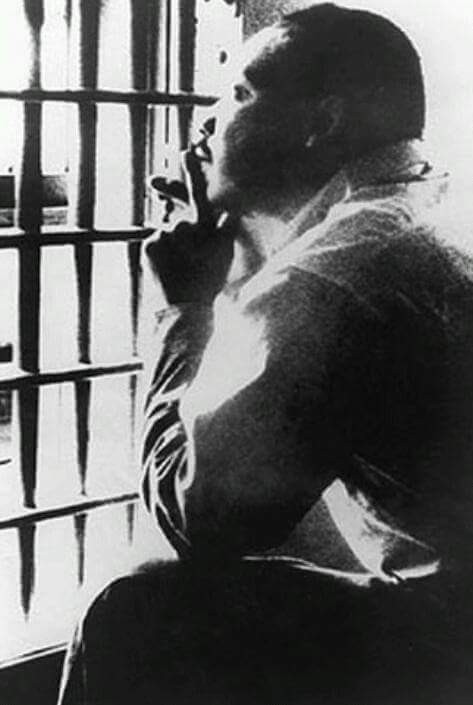 Dr. Martin Luther King, Jr. penned his 'Letter from Birmingham Jail' while incarcerated in Birmingham, Alabama for protesting against segregation.
The Letter from Birmingham Jail (also known as "Letter from Birmingham City Jail" and "The Negro Is Your Brother") is an open letter.
The letter defends the strategy of nonviolent resistance to racism, arguing that people have a moral responsibility to break unjust laws. After an early setback, it enjoyed widespread publication and became a key text for the American civil rights movement of the early 1960s.
BACKGROUND: The Birmingham Campaign began on April 3, 1963, with coordinated marches and sit-ins against racism and racial segregation in Birmingham, Alabama. The non-violent campaign was coordinated by Alabama Christian Movement for Human Rights and King's Southern Christian Leadership Conference.
On April 10, Circuit Judge W. A. Jenkins issued a blanket injunction against "parading, demonstrating, boycotting, trespassing and picketing". Leaders of the campaign announced they would disobey the ruling.
On April 12, King was roughly arrested with Ralph Abernathy, Fred Shuttlesworth and other marchers—while thousands of African Americans dressed for Good Friday looked on.
Dr. King met with unusually harsh conditions in the Birmingham jail. An ally smuggled in a newspaper from April 12, which contained "A Call for Unity": a statement made by eight white Alabama clergymen against King and his methods. The letter provoked King and he began to write a response on the newspaper itself.
Dr. King writes in Why We Can't Wait: "Begun on the margins of the newspaper in which the statement appeared while I was in jail, the letter was continued on scraps of writing paper supplied by a friendly black trusty, and concluded on a pad my attorneys were eventually permitted to leave me."
Read more about the famous letter at: Daily Black History Facts