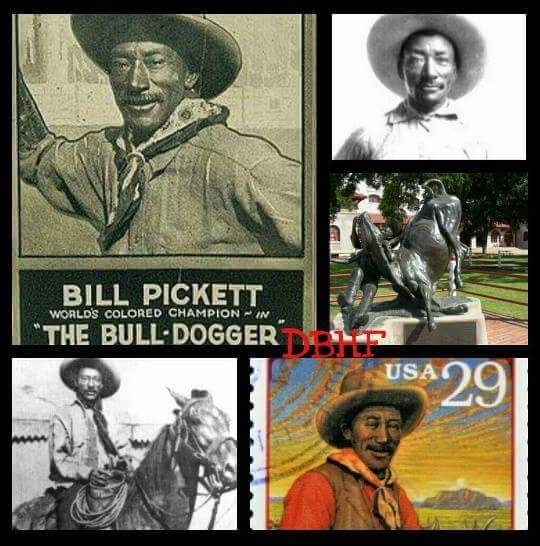 Cowboy Bill Pickett dies after he is kicked in the head by a wild bronco, he was 61.
Bill invented the art of bull-dogging.
Bill Pickett has a headstone beside the graves of the Miller brothers at the Cowboy Hill Cemetery, but he is buried near a 14-foot stone monument to the friendship of Ponca Tribal Chief White Eagle and the Miller Brothers on Monument Hill, also known as the White Eagle Monument to the locals, less than a quarter of a mile to the north-east of Marland in Noble County, Oklahoma.
Willie M. "Bill" Pickett was a cowboy and rodeo performer. In 1971, he became the 1st African-American inducted into the National Rodeo Cowboy Hall of Fame.
Pickett was born in the Jenks-Branch community of Travis County, Texas near Taylor, Texas in 1870. He was the second of 13 children born to Thomas Jefferson Pickett, a former slave, and Mary "Janie" Gilbert. Pickett had four brothers and eight sisters. The family's ancestry was African-American, European-American and Cherokee Native American.
In 1890, Pickett married Maggie Turner, a former slave and daughter of a white southern plantation owner. The couple had nine children.
Read about his career & legacy at: Daily Black History Facts