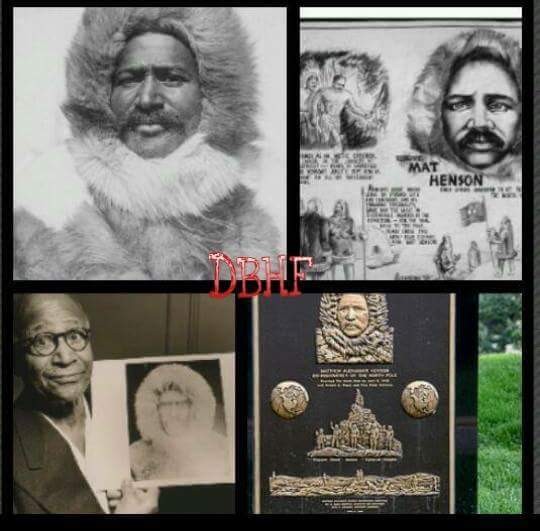 Matthew Henson and Admiral Robert Peary reach the North Pole.
Matthew Alexander Henson was an African American explorer and associate of Robert Peary on various expeditions, the most famous being a 1909 expedition during which he was the 1st person to reach the Geographic North Pole.
REACHING THE NORTH POLE: In 1909, Admiral Robert Peary mounted his eighth attempt to reach the North Pole, selecting Henson to be one of the team of six who would make the final run to the Pole. Before the goal was reached, Peary could no longer continue on foot and rode in a dog sled.
Various accounts say he was ill, exhausted, or had frozen toes. In any case, he sent Henson on ahead as a scout. In a newspaper interview Henson said: "I was in the lead that had overshot the mark a couple of miles. We went back then and I could see that my footprints were the first at the spot." Henson then proceeded to plant the American flag.
Although Admiral Peary received many honors, Henson was largely ignored and spent most of the next thirty years working as a clerk in a federal customs house in New York. But in 1944 Congress awarded him a duplicate of the silver medal given to Peary. Presidents Truman and Eisenhower both honored him before he died in 1955.
In 1912 Matthew Henson wrote the book A Negro Explorer at the North Pole about his arctic exploration. Later, in 1947 he collaborated with Bradley Robinson on his biography Dark Companion.
Henson died in the Bronx on March 9, 1955, at the age of 88, and was buried at Woodlawn Cemetery; after her death in 1968, his wife Lucy was buried with him. In 1988, the Hensons' remains were both exhumed and reburied at Arlington National Cemetery, near the grave of Admiral Peary and his wife. In 1961 an honorary plaque was installed to mark his Maryland birthplace.
Read about his honors & legacy: Daily Black History Facts