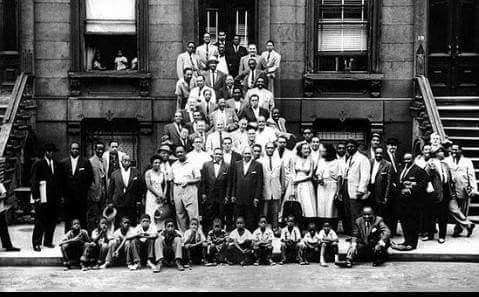 This now famous black and white group portrait "A Great Day in Harlem"  was taken in front of a Brownstone in New York City.
The photo has remained an important object in the study of the history of jazz.
Art Kane, a freelance photographer working for Esquire magazine, took the picture around 10 a.m. on August 12, 1958. The musicians had gathered at 17 East 126th Street, between Fifth and Madison Avenues in Harlem.
Most of the children in the photo were neighborhood residents, although the 2nd child from the right, Taft Jordan, Jr., had accompanied his father, Taft Jordan, to the photo session.
Esquire published the photo in its January 1959 issue.
Kane calls it "the greatest picture of that era of musicians ever taken."
Jean Bach, a radio producer of New York, recounted the story behind it in her 1994 documentary film, A Great Day in Harlem. The film was nominated in 1995 for an Academy Award for Documentary Feature.
As of January 2016, only 2 of the 57 musicians who participated are still living (Benny Golson and Sonny Rollins (see names in the listed below):
MUSICIANS IN PICTURE: ?Red Allen, ?Buster Bailey, ?Count Basie, ?Emmett Berry, ?Art Blakey, ?Lawrence Brown, ?Scoville Browne, ?Buck Clayton, ?Bill Crump, ?Vic Dickenson, ?Roy Eldridge, ?Art Farmer, ?Bud Freeman, ?Dizzy Gillespie, ?Tyree Glenn, ?Benny Golson, ?Sonny Greer, ?Johnny Griffin, ?Gigi Gryce, ?Coleman Hawkins, ?J.C. Heard, ?Jay C. Higginbotham, ?Milt Hinton, ?Chubby Jackson, ?Hilton Jefferson, ?Osie Johnson, ?Hank Jones, ?Jo Jones , ?Jimmy Jones, ?Taft Jordan, ?Max Kaminsky, ?Gene Krupa, ?Eddie Locke, ?Marian McPartland, ?Charles Mingus, ?Miff Mole, ?Thelonious Monk, ?Gerry Mulligan, ?Oscar Pettiford, ?Rudy Powell, ?Luckey Roberts, ?Sonny Rollins, ?Jimmy Rushing, ?Pee Wee Russell, ?Sahib Shihab, ?Horace Silver, ?Zutty Singleton, ?Stuff Smith, ?Rex Stewart, ?Maxine Sullivan, ?Joe Thomas, ?Wilbur Ware, ?Dickie Wells, ?George Wettling, ?Ernie Wilkins, ?Mary Lou Williams, ?Lester Young
IN POPULAR CULTURE: ?The photo was also a key plot point in Steven Spielberg's film, The Terminal. The film starred Tom Hanks as Viktor Navorski, a character who comes to the United States in search of Benny Golson's autograph, with which he can complete his deceased father's collection of autographs from the musicians pictured in the photo.