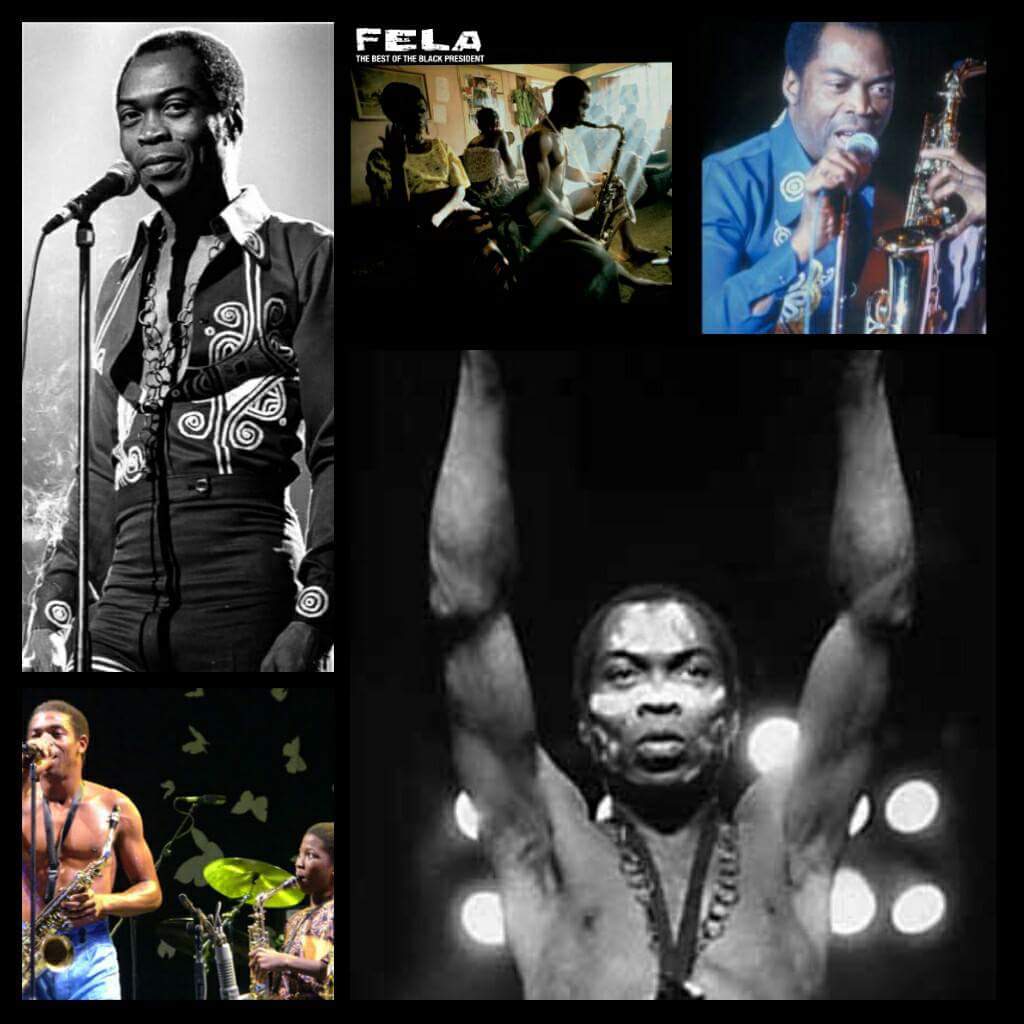 Fela Anikulapo-Kuti died from Kaposi's sarcoma which was brought on by AIDS.
On August 3, 1997, Olikoye 1 already a prominent AIDS activist and former Minister of Health, stunned the nation by announcing his younger brother's death.
More than a million people attended Fela's funeral at the site of the old Shrine compound. A new Africa Shrine has opened since Fela's death in a different section of Lagos under the supervision of his son Femi Kuti.
Fela Kuti (born Olufela Olusegun Oludotun Ransome-Kuti) also known as Fela Anikulapo Kutior simply Fela, was a Nigerian multi-instrumentalist musician and composer, pioneer of Afrobeat music, human rights activist, and political maverick.
LEGACY:
?In recent years there has been a revitalization of Fela's influence on music and popular culture, culminating in another re-release of his catalog controlled by Universal Music, off- and on-Broadway biopic shows, and new bands, such as Antibalas, who carry the Afrobeat banner to a new generation of listeners.
?In 1999, Universal Music France, under the aegis of Francis Kertekian, remastered the 45 albums that it controlled and released them on twenty-six compact discs. These titles were licensed to other territories of the world with the exception of Nigeria and Japan, where Fela's music was controlled by other companies.
?In 2005, Universal Music USA licensed all of its world-music titles to the UK-based label Wrasse Records, which repackaged the same twenty-six CDs for distribution in the USA (replacing the MCA-issued titles there) and the UK.
?In 2009, Universal created a new deal for the USA with Knitting Factory Records and for Europe with PIAS, which included the release of the Fela! Broadway cast album.
?In 2013, FKO Ltd., the entity that owned the rights of all of Fela's compositions, was acquired by BMG Rights Management.
?Thomas McCarthy's 2008 film The Visitor depicted a disconnected professor (Oscar nominee Richard Jenkins) who wanted to play the djembe. He learns from a young Syrian (Haaz Sleiman) who tells the professor he will never truly understand African music unless he listens to Fela. The film features clips of Fela's "Open and Close" and "Je'nwi Temi (Don't Gag Me)".
?In 2008, an off-Broadway production of Fela Kuti's life entitled Fela!, inspired by Carlos Moore's 1982 book Fela, Fela! This Bitch of a Life, began with a collaborative workshop between the Afrobeat band Antibalas and Tony award-winner Bill T. Jones. The show was a massive success, selling out shows during its run, and garnering much critical acclaim.
?On November 22, 2009, Fela!began a run on Broadway at the Eugene O'Neill Theatre. Jim Lewis helped co-write the play (along with Bill T. Jones), and obtained producer backing from Jay-Z and Will Smith, among others. On May 4, 2010, Fela! was nominated for 11 Tony Awards, including Best Musical, Best Book of a Musical, Best Direction of a Musicalfor Bill T. Jones, Best Leading Actor in a Musical for Sahr Ngaujah, and Best Featured Actress in a Musical for Lillias White.On June 11, 2012, it was announced that FELA! would return to Broadway for 32 performances.
?On August 18, 2009, award-winning DJ J.Period released a freemixtape to the general public via his website that was a collaboration with Somali-born hip-hop artist K'naan paying tribute to Fela, Bob Marley and Bob Dylan, entitled The Messengers.
?In October 2009, Knitting Factory Records began the process of re-releasing the 45 titles that Universal Music controls, starting with yet another re-release of the compilation The Best of the Black President in the USA. The rest is expected to be released in 2010.
?In addition, a movie by Focus Features, directed by Steve McQueen and written by Biyi Bandele about the life of Fela Kuti was rumoured to be in production 2010, with Chiwetel Ejiofor in the lead role, but has not eventuated.
?In 2013, Thom Yorke named Fela Kuti's music as an important influence in the forming of his Atoms for Peace supergroup.