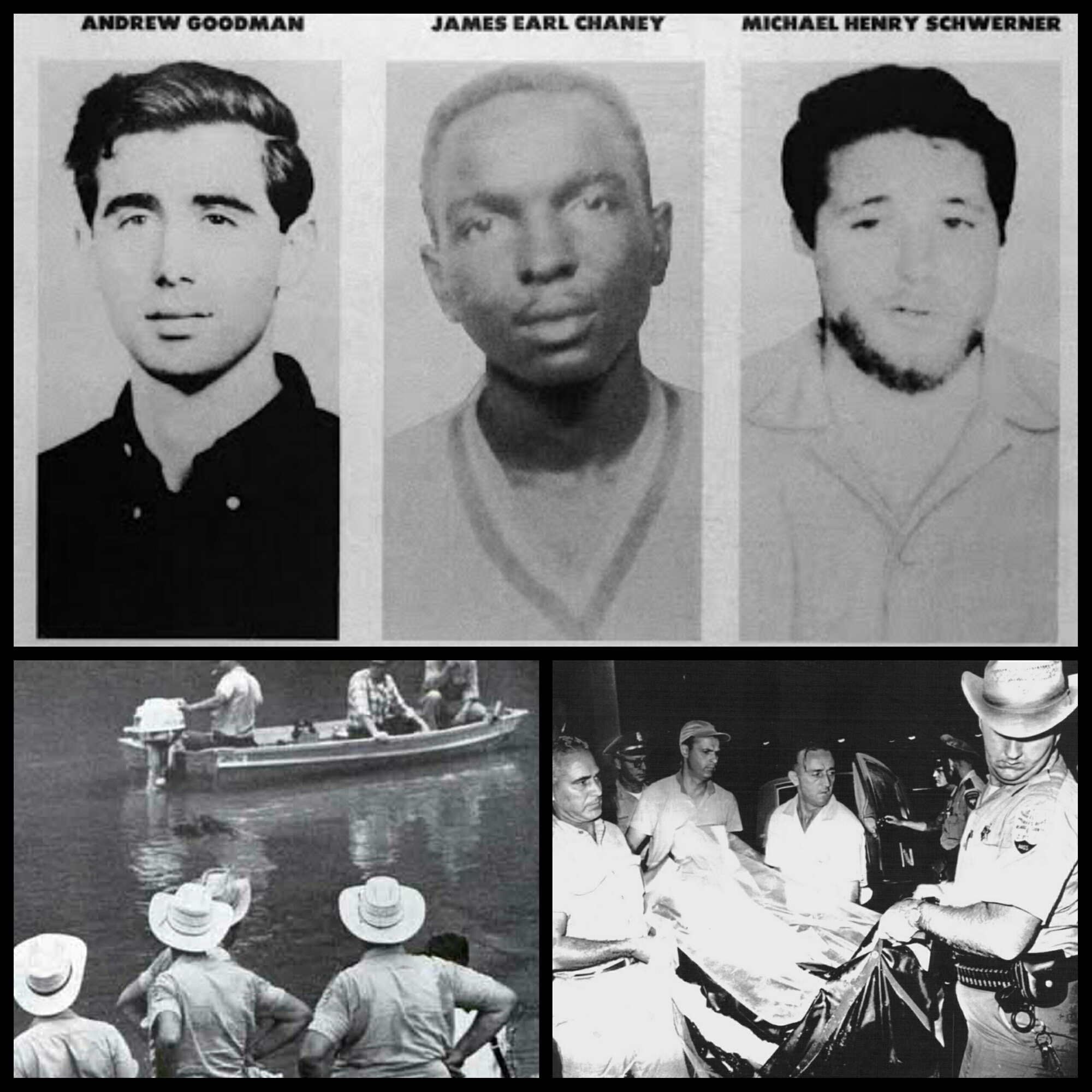 Michael Schwerner, Andrew Goodman and James Chaney are found dead in Mississippi after disappearing on June 21st. Their bodies were found underneath an earthen dam, near the murder site, on Olen Burrage's 254 acres farm. Schwerner and Goodman had each been shot once in the heart; Chaney, a black man, had been beaten and shot three times.
*During the 44 day investigation for the 3 Civil Rights workers, searchers including Navy divers and FBI agents discovered the bodies of Henry Hezekiah Dee, Charles Eddie Moore, 14-year old Herbert Oarsby, and 5 other unidentified African-Americans, whose disappearances in the recent past had not attracted attention outside of their local communities.*
After the state government refused to prosecute, the federal government initially charged 18 individuals but was only able to secure convictions for 7 of them, who received relatively minor sentences for their actions. However, outrage over their deaths assisted in the passing of the Civil Rights Act of 1964 and the Voting Rights Act of 1965.
44 days earlier, Chaney, Schwerner and Goodman were lynched on the night of June 21–22, 1964 by members of the Mississippi White Knights of the Ku Klux Klan, the Neshoba County's Sheriff Office and the Philadelphia Police Department located in Philadelphia, Mississippi.


The three had been working on the "Freedom Summer" campaign, attempting to register African Americans to vote.Their murders sparked national outrage and a massive federal investigation. The Federal Bureau of Investigation referred to this investigation as Mississippi Burning (MIBURN).
Read More —
http://www.history.com/this-day-in-history/slain-civil-rights-workers-found
http://www.pbs.org/wgbh/americanexperience/features/freedomsummer-murder/