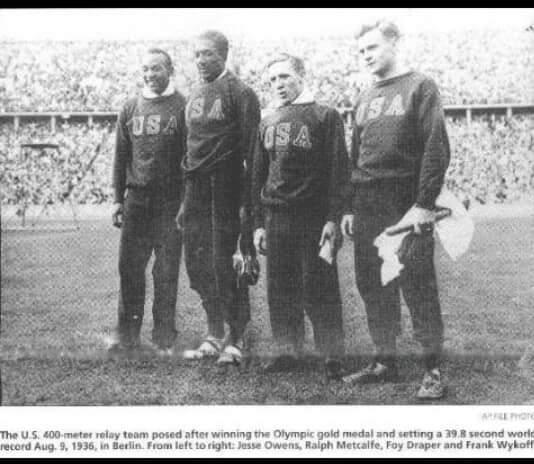 Jesse Owens running 1st leg on the 4x100m relay team at the 1936 Summer Olympics in Berlin, set the stage for his 4th Olympic Gold medal in those games.
Owens was the most successful athlete at the Berlin Olympics, which killed Adolf Hitler's claim of a superior white Aryan race.
Coach Dean Cromwell replaced Jewish-American sprinters Marty Glickman and Sam Stoller with Owens and Ralph Metcalf, who teamed with Frank Wykoff and Foy Draper to set a world record of 39.8 in the 4X100 relay event.
Owens' performance was not equaled until Carl Lewis won 4 gold medals in the same events at the Soviet-boycotted 1984 Summer Olympics in Los Angeles.