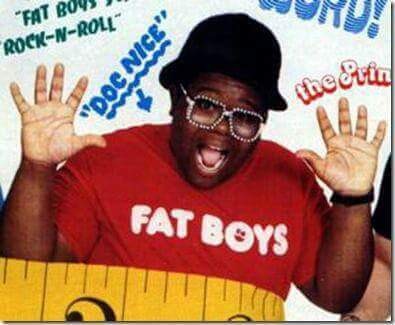 At the age of 28, Darren "Buffy, the human beat box" Robinson died of a heart attack, weighing 450 lbs at the time. He had been battling the flu, according to his older brother, Curt. Also, he had recently been diagnosed with lymphedema, or fluid buildup.
"He was doing one of his songs, and at the end of the session he got off the couch and was climbing on a studio chair when he fell and lost his wind," Curt Robinson said. "I tried to give him mouth to mouth, but he just couldn't make it." Paramedics called to Robinson's Rosedale, New York home at 3 a.m. were also unable to revive the rapper.
Curt Robinson said Darren Robinson had been trying to lose weight and was working on a Fat Boys reunion album.
Darren Robinson, also known as Buffy, The Human Beat Box, and DJ Doctor Nice (among other aliases), was a member of the 1980s rap group The Fat Boys. He, along with Doug E. Fresh and others, were pioneers of beatboxing, a form of vocal percussion used in many rap groups throughout the '80s and '90s.
Read more about his career at: Daily Black History Facts