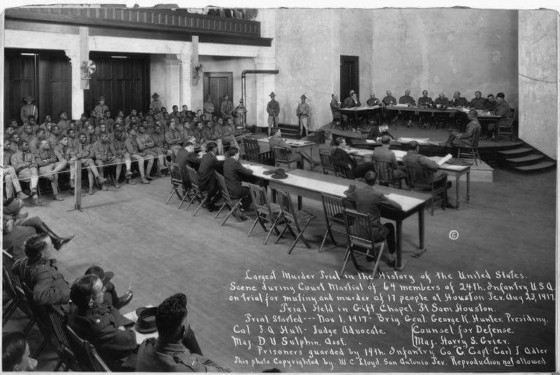 13 African-American soldiers were hanged for their participation in the Houston Riot of 1917.
The Houston Riot of 1917, or Camp Logan Riot, was a mutiny by 156 African American soldiers of the Third Battalion of the all-black Twenty-fourth United States Infantry Regiment. It occupied most of one night, and resulted in the deaths of 4 soldiers and 16 civilians. The rioting soldiers were tried at three courts-martial.
A total of 19 would be executed, and 41 were given life sentences.
THE HANGINGS: The condemned soldiers (1 sergeant, 4 corporals and 8 privates) were transferred to a barracks on December 10. That evening, motor trucks carried new lumber for scaffolds to some bathhouses built for the soldiers at Camp Travis near a swimming pool in the Salado Creek. The designated place of execution was several hundred yards away. Army engineers completed their work by the light of bonfires.
The 13 condemned men were awakened on December 11th at 5am and brought to the gallows. They were hanged simultaneously, at 7.17am, one minute before sunrise. The scaffolds were disassembled and every piece returned to Fort Sam Houston.
The New York Times, impressed by the clean-up operations, observed the place of execution and place of burial were "indistinguishable." Only army officers and County Sheriff John Tobin had been allowed to witness the execution.
Gen. Ruckman told reporters he had personally approved the death sentences and said that forty-one soldiers had been given life sentences and four received sentences of two and a half years or less. He said he was the one who chose the time and place for the executions.
Read more about the aftermath: Daily Black History Facts