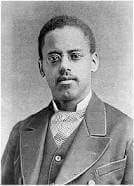 Lewis Howard Latimer was a inventor and draftsman. He was 80 when he died.
WORK & INVENTIONS: ?In 1874, he co-patented (with Charles W. Brown) an improved toilet system for railroad cars called the Water Closet for Railroad Cars (U.S. Patent 147,363).
☎In 1876, Alexander Graham Bell employed Latimer, then a draftsman at Bell's patent law firm, to draft the necessary drawings required to receive a patent for Bell's telephone.
?In 1879, he moved to Bridgeport, Connecticut with his brother, William, his mother, Rebecca, and his wife, Mary. Other family members, his brother George A. Latimer and his wife Jane, and his sister Margaret and her husband Augustus T. Hawley and their children, were already living there. Lewis was hired as assistant manager and draftsman for the U.S. Electric Lighting Company, a company owned by Hiram Maxim, a rival of Thomas A. Edison.
☎Latimer received a patent in January 1881 for the "Process of Manufacturing Carbons," an improved method for the production of carbon filaments used in lightbulbs.
?The Edison Electric Light Company in New York City hired Latimer in 1884, as a draftsman and an expert witness in patent litigation on electric lights. When that company was combined in 1892 with the Thomson-Houston Electric Company to form General Electric, he continued to work in the legal department.
☎Latimer is credited with an improved process for creating a carbon filament at this time, which was an improvement on Thomas Edison's original paper filament, which would burn out quickly.
?When General Electric and Westinghouse Electric Company formed the "Board of Patent Control" in 1896, to coordinate patent licensing and litigation, Latimer was employed as the chief draftsman.
☎In 1911 he became a patent consultant to law firms.
Read about Latimer's amazing legacy at: Daily Black History Facts