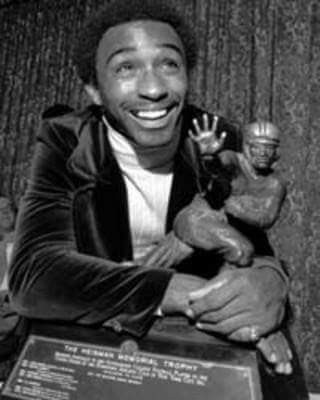 Johnny Rodgers was running back with the University of Nebraska. He is the only Heisman winner who had a then-present felony conviction before receiving the award.
Rodgers was pardoned by the Nebraska Board of Pardons, and his conviction was vacated, on November 14, 2013.
Johnny Steven Rodgers is a former college football player voted the University of Nebraska's "Player of the Century". Rodgers served as a punt return specialist, pass receiver, and running back. Rodgers broke virtually every offensive team record, was twice named to the College Football All-America Team and won the Walter Camp Award.
In 1971, in what has become known as college football's "Game of the Century," Rodgers returned a punt 72 yards to score the first touchdown which set the tone for his team's 35-31 victory over the University of Oklahoma Sooners.
ESPN describes Rodgers' performance as "unforgettable." However, some observers consider his greatest single performance to be in the 1973 (post-1972 season) Orange Bowl when he led his team to a 40-6 victory over the University of Notre Dame.
Rodgers ran for three touchdowns, caught a 50-yard pass for another touchdown, and threw a 54-yard touchdown pass to a teammate. He did all this before leaving the game with 21 minutes still to play.
Read more about his career & legacy at: Daily Black History Facts