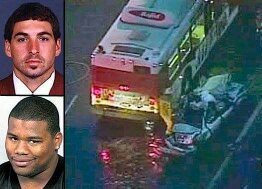 Darrell Russell was a passenger in a 2004 Pontiac Grand Prix driven by close friend and former USC teammate Michael Bastianelli when it veered out of control, hitting several items including a tree and a fire hydrant before hitting a parked bus.
Both men were found unconscious and taken to area hospitals, where they were pronounced dead.
Darrell Anthony Russell was a football defensive lineman for the Oakland Raiders and Washington Redskins of the NFL.
Russell's seven-year, $22 million contract in 1997 was at the time the richest rookie contract ever signed in the NFL.He went on to have 28.5 career sacks.
After making the Pro Bowl in 1998 and 1999, averaging ten sacks per year, Russell was suspended four games in 2001 for failing to comply with the NFL's drug policy. Shortly after that, he tested positive for another banned substance and was given a one-year suspension that later was made indefinite by the league.
Read more about Russell's career and troubles at: Daily Black History Facts