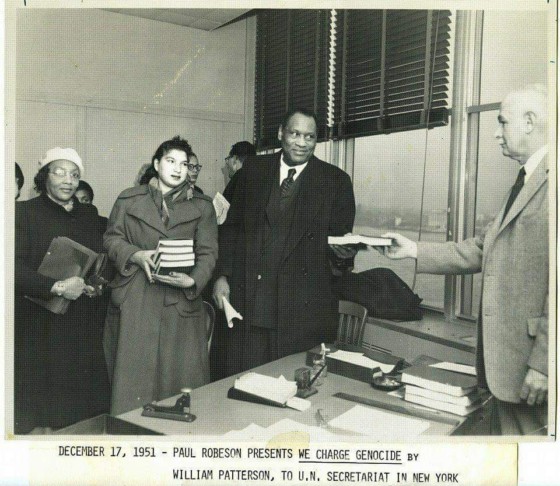 The Civil Rights Congress delivers "We Charge Genocide" to the United Nations."We Charge Genocide: The Crime of Government Against the Negro People" is a document accusing the United States government of genocide according to the UN Genocide Convention.
As evidence of genocide, defined as acts committed with "intent to destroy" a group, "in whole or in part", the document cites many instances of lynching in the United States, as well as legal discrimination, and systematic inequalities in health and quality of life. It argues that the US government is both complicit with and responsible for a genocidal situation.
The document received international media attention and became caught up in Cold War politics. Its many examples of shocking conditions for African Americans shaped beliefs about America in countries across the world.
The American government and white press accused the CRC of exaggerating racial inequality to advance the cause of Communism. The US State Department forced CRC secretary William L. Patterson to surrender his passport after presenting the petition to a UN meeting in Paris.
Read more about the aftermath at: Daily Black History Facts