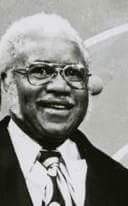 Pops Staples died after suffering a concussion in a fall at his home, he was just 9 days short of his 86th birthday.
After his death, his daughters Yvonne and Mavis gave one of his guitars to country and gospel musician Marty Stuart.
Roebuck "Pops" Staples was an gospel and R&B musician. A "pivotal figure in gospel in the 1960s and 70s," he was an accomplished songwriter, guitarist and singer. He was the patriarch and member of singing group The Staple Singers, which included his son Pervis and daughters Mavis, Yvonne, and Cleotha.
In 1998 he received a National Heritage Fellowship from the National Endowment for the Arts, and in 1999 the Staple Singers were inducted into the Rock and Roll Hall of Fame.
Read about his influence at: Daily Black History Facts