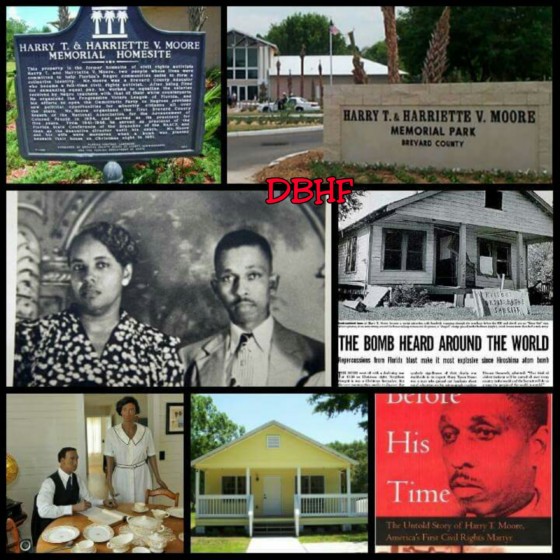 Shortly after 10 p.m., a bomb went off beneath the house of Harry T. Moore and his wife Harriet in Mims, Florida. It was the Moores 25th wedding anniversary.
Moore died on the way to the hospital in Sanford, Florida. His wife died from her injuries 9 days later at the hospital in Sanford. 6 weeks earlier, as the Executive Director of the Florida NAACP, Moore organized a campaign against what he saw as the wrongful rape convictions of the three black men in the Groveland Case. With NAACP support, appeals were pursued.
In April 1951 a legal team headed by Thurgood Marshall won the appeal of Shepherd and Irvin's convictions before the U.S. Supreme Court. A new trial was scheduled. His involved in the appeals are believed to be the reason he and his wife were assassinated.
Harry Tyson Moore was a teacher, founder of the 1st branch of the National Association for the Advancement of Colored People (NAACP) in Brevard County, Florida, and a pioneer leader of the Civil Rights Movement in Florida and the southern United States.
Harry T. Moore and his wife, Harriette Vyda Simms Moore, also a teacher, were the victims of a bombing of their home in Mims, Florida on Christmas night 1951. Forensic work in 2005-06 resulted in the naming of the probable perpetrators as 4 Ku Klux Klan members, all long dead by the time of the investigation.
The Moores were the 1st NAACP members to be murdered for civil rights activism; Moore has been called the 1st martyr of the early stage of the Civil Rights Movement (1896–1954).
The murders caused a national and international outcry, with protests registered at the United Nations against violence in the South. When the Moores were killed, the risk to civil rights activists and any blacks in the South was high and continued to be so.
According to a later report from the NAACP's Southern Regional Council in Atlanta, the homes of 40 black Southern families were bombed during 1951 and 1952.
Read about their murders legacy at: Daily Black History Facts