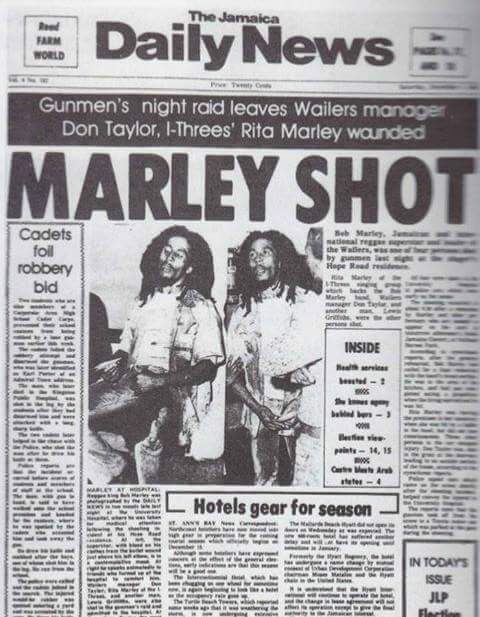 An assassination attempt is made on Bob Marley. He is shot twice, but plays a concert two days later.
SHOOTING: Two days before "Smile Jamaica", a free concert organized by the Jamaican Prime Minister Michael Manley in an attempt to ease tension between two warring political groups, Marley, his wife, and manager Don Taylor were wounded in an assault by unknown gunmen inside Marley's home.
Taylor and Marley's wife sustained serious injuries, but later made full recoveries.
Bob Marley received minor wounds in the chest and arm. The shooting was thought to have been politically motivated, as many felt the concert was really a support rally for Manley. Nonetheless, the concert proceeded, and an injured Marley performed as scheduled, two days after the attempt. When asked why, Marley responded, "The people who are trying to make this world worse aren't taking a day off. How can I?" 
Read more about the shooting and aftermath: Daily Black History Facts