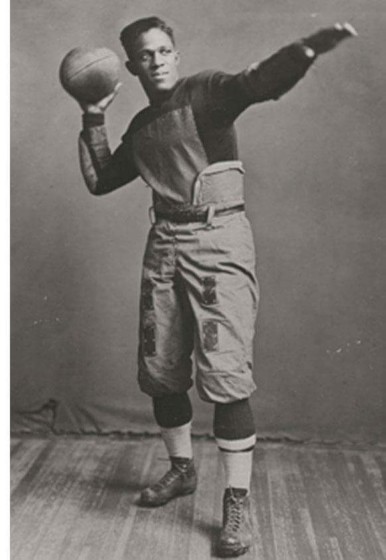 Frederick Douglass "Fritz" Pollard, of Brown University, becomes the 1st African American running back named to Walter Camp's All-American team.
Pollard was the 1st African American head coach in the National Football League (NFL). Pollard along with Bobby Marshall were the 1st two African American players in the NFL in 1920. Sportswriter Walter Camp ranked Pollard as "one of the greatest runners these eyes have ever seen."
HIS BACKGROUND: Pollard was born in Chicago on January 27, 1894. He attended Lane Tech High School where he played football, baseball, and ran track. Pollard attended Brown University, majoring in chemistry. Pollard played half-back on the Brown football team, which went to the 1916 Rose Bowl.
PRO-FOOTBALL CAREER: He later played pro football with the Akron Pros, the team he would lead to the NFL (APFA) championship in 1920. In 1921, he became the co-head coach of the Akron Pros, while still maintaining his roster position as running back. He also played for the Milwaukee Badgers, Hammond Pros, Gilberton Cadamounts, Union Club of Phoenixville and Providence Steam Roller. Some sources indicate that Pollard also served as co-coach of the Milwaukee Badgers with Al Garrett for part of the 1922 season. He also coached the non-NFL team Gilberton. In 1923 and 1924, he served as head coach for the Hammond, Indiana football team.
Pollard, along with all nine of the black players in the NFL at the time, were removed from the league at the end of the 1926 season, never to return again. He spent some time organizing all-black barnstorming teams, including the Chicago Black Hawks in 1928 and the Harlem Brown Bombers in the 1930s.
Read about his legacy at: Daily Black History Facts