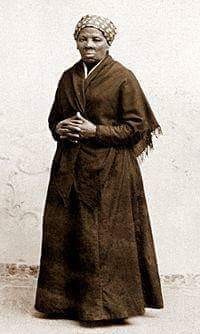 Harriet Tubman escapes slavery to Philadelphia. Tubman made use of the network known as the Underground Railroad. This informal, but well-organized, system was composed of free and enslaved blacks, white abolitionists, and other activists.
Most prominent among the latter in Maryland at the time were members of the Religious Society of Friends, often called Quakers. The Preston area near Poplar Neck in Caroline County contained a substantial Quaker community, and was probably an important first stop during Tubman's escape. From there, she probably took a common route for fleeing slaves – northeast along the Choptank River, through Delaware and then north into Pennsylvania. A journey of nearly 90 miles, her traveling by foot would have taken between five days and three weeks.
Tubman had to travel by night, guided by the North Star, and trying to avoid slave catchers, eager to collect rewards for fugitive slaves. The "conductors" in the Underground Railroad used a variety of deceptions for protection. At one of the earliest stops, the lady of the house ordered Tubman to sweep the yard to make it appear as though she worked for the family.
When night fell, the family hid her in a cart and took her to the next friendly house. Given her familiarity with the woods and marshes of the region, it is likely that Tubman hid in these locales during the day. Because the routes she followed were used by other fugitive slaves, Tubman did not speak about them until later in her life.
Read more about Tubman's journey to freedom at: Daily Black History Facts