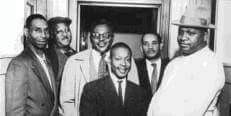 Six African-Americans were arrested for trying to integrate the city's segregated Gillespie Park Golf Course.
The morning of December 7, 1955, an early winter day, George C. Simkins, Jr. awaited the arrival of five golf partners, a regular occurrence. When they wanted a change of pace, they would meet and drive to High Point or Charlotte or Durham to play one of the few courses open to people of color. On this day, though, they planned to play Gillespie Park, a city-owned course operated as a private facility by a group of white citizens who leased it for $1. 
Lease agreements such as this were a common practice among Southern municipalities,which sought to circumvent the Supreme Court ruling that made it unlawful for city-owned golf courses to discriminate against anyone. Play at Gillespie Park was restricted to "members" and their guests.
African-Americans fit neither category, but the six golfers were determined to change that. When they arrived at Gillespie Park, the golf shop attendant greeted them with the warmth of day-old grits saying they could not play, grabbing the registration book to keep them from signing it. 
One after another, Dr. Simkins, Leon Wolfe, Joseph Sturdivant, Samuel Murray, Elijah Herring, and Phillip Cook defiantly placed their 75-cent green fee on the counter and headed for the first tee. They were on the fifth hole when head pro Ernie Edwards caught up with them.
Brandishing a golf club, Edwards cursed at the six, and threatened to have them arrested if they didn't leave. The golfers ignored Edwards' warning, finished nine holes, and departed for home. 
Read more about the incident and aftermath at: Daily Black History Facts