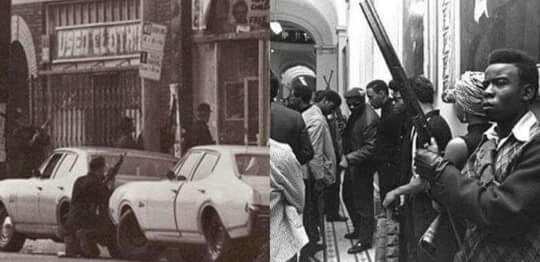 A pre-dawn raid by LAPD at the Black Panthers Party headquarters, turned into a 5 hour stand-off. This was just days after Chicago PD & the FBI assassinated Fred Hampton and Mark Clark.
Thousands of shots are exchanged during the ensuing five-hour gun battle. 3 officers and 6 Black Panthers are wounded. THIS time no one is killed.
The raid involved over 300 LAPD and SWAT officers. During the battle, the Panthers withstood the police attacks, including attacks from the roof of the building. Frustrated, the police arrested Elmer Geronimo Pratt, the Panther's Deputy Minister of Defense, on a fabricated robbery and murder charge that was later dismissed.
In Chicago, they were able to shoot Hampton through a wall because they had a detailed map of the apartment provided by an FBI informant who had also made sure Hampton would be on the other side of that wall by drugging his food the night before.
Read more about this attack on the BPP at: Daily Black History Facts