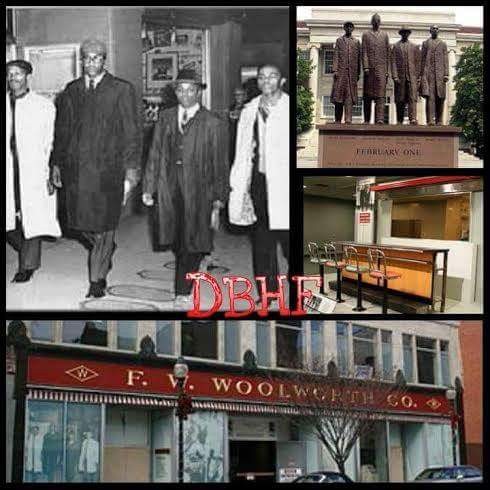 At 4:30pm 4 African-American students initiated the sit-in movement by sitting down at Woolworth's lunch counter at 132 South Elm Street in Greensboro, North Carolina.
The four freshmen from the North Carolina Agricultural and Technical State University– Joseph McNeil, Franklin McCain, Ezell Blair, Jr. (later known as Jibreel Khazan), and David Richmond – stayed until the store closed.
The men, later known as the A&T Four or the Greensboro Four, went to Woolworth's Store, bought toothpaste and other products from a desegregated counter at the store with no problems, and then were refused service from the segregated lunch counter, at the same store.
Following store policy, the lunch counter staff refused to serve the black men at the "whites only" counter and store manager Clarence Harris asked them to leave.
Read about the aftermath & legacy of the sit-in at: Daily Black History Facts