​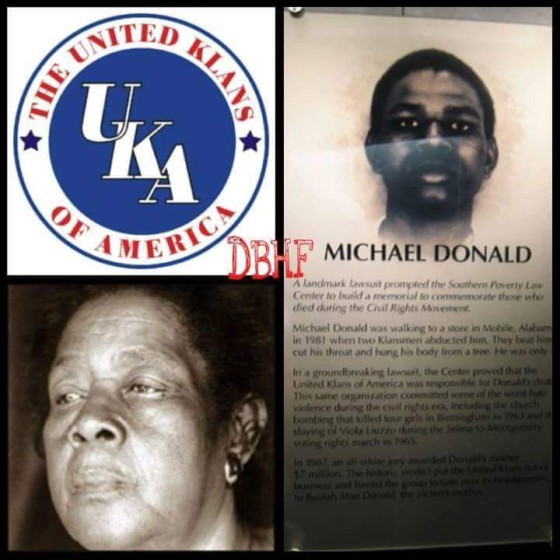 Donald vs. United Klans Of America. Beulah Mae Donald won an historic $7 million verdict against the 2 klans members who beat and lynched her son, Michael Donald.
Henry Hays and James Llewellyn "Tiger" Knowles kidnapped Micheal Donald on March 20, 1981, drove out to a secluded area in the woods, attacked him and beat him with a tree limb. They wrapped a rope around his neck, and pulled on it to strangle him, before slitting his throat and hanging him from a tree across the street from Hays' house.
AFTERMATH: The verdict marked the end of the United Klans, the same group that had beaten the Freedom Riders in 1961, murdered civil rights worker Viola Liuzzo in 1965, and bombed Birmingham's 16th Street Baptist Church in 1963.
The group was forced to turn over its headquarters to Beulah Mae Donald, and two additional Klansmen were convicted of criminal charges.
Read more stories like this: Daily Black History Facts