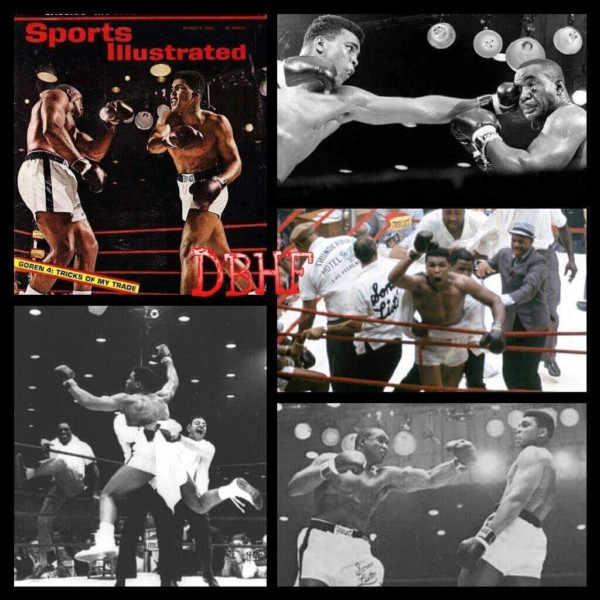 Cassius Clay fought Charles "Sonny" Liston for the world heavyweight title in Miami, Florida. Liston expected an early knockout. However, Clay was a lot faster than most other boxers.
Clay won by TKO.
DETAILS OF THE FIGHT: Clay weighed in at 206 lbs while Liston was 218 lb. Many of those watching were surprised during the referee's instructions to see that Clay was considerably taller than Liston. While receiving instructions, Liston glowered at Clay, while Clay stood on his toes to appear even taller. Clay later said of the moment: "I won't lie, I was scared . . . It frightened me, just knowing how hard he hit. But I didn't have no choice but to go out and fight."
Liston had not trained hard for the bout, convinced that he would dispose of Clay easily in the early rounds. When the fight began it became apparent that Liston was out of condition. Right from the early moments in the first round, Clay's superior speed was evident, as he slipped most of Liston's lunging punches.
In the early rounds, Clay was constantly moving, and that, combined with his impressive reflexes, made Liston look slow and awkward. Toward the end of the round, Clay hit Liston with a combination that electrified the crowd. During the round Clay was hit hard by a right to the stomach, but he said later, "I felt good because I knew I could survive." Milt Bailey, Liston's cornerman, recalled, "
In the first round Sonny couldn't catch up with Clay, and I thought we might have some trouble."
In round two Liston continued to chase Clay unsuccessfully, although at one point he cornered Clay against the ropes and hit him with a hard left hook.
In the third round, Clay began to take control of the fight. He opened up his attack and hit Liston with several combinations, causing a bruise under Liston's right eye and a cut under his left.
At one point in this attack, Liston's knees buckled and he almost went down. Mort Sharnik described the moment: "Cassius hit Liston with a one-two combination; a jab followed by a straight right. Cassius pulled the jab back and there was a mouse underneath Sonny's right eye. Then he pulled the right back and there was a gash underneath the other eye . . . . It was like the armor plate of a battleship being pierced. I said to myself, "My God, Cassius Clay is winning this fight!"
A clearly angered Liston rallied somewhat at the end of the round, as Clay seemed tired, and delivered some punishing shots to Clay's body. But as the round ended, Clay shouted to Liston, "you big sucka, I got you now." Sitting on the bench between rounds, Liston was breathing heavily.
During the 4th round, Clay coasted, keeping his distance. However, when he returned to his corner Clay started complaining that there was something burning in his eyes and that he could not see. As the pain worsened, Clay shouted: "cut off my gloves," but trainer Angelo Dundee responded, "this is the big one, daddy…we're not quitting now!". He rinsed Clay's eyes with a sponge and pushed him off his stool to begin the fifth round, telling him to "get out there and run." It is a testament to Clay's reflexes that, although blinded, he managed to survive the round.
It has been theorized that a substance used to stop Liston's cuts from bleeding (possibly Monsel's solution) may have caused the irritation, either through accidental contact with Clay or by being purposely applied to Liston's gloves by his corner. Neither explanation has ever been proven.
By the 6th round, Clay's sight had cleared, and he resumed control of the fight, landing combinations of punches seemingly at will. "I got back to my stool at the end of the sixth round, and under me I could hear the press like they had gone wild," Clay later said. "I twisted round and hollered down at the reporters, 'I'm gonna upset the world.'"
In Liston's corner, he told his corner-men "that's it." This rallied Liston's handlers, who though he meant he was finally angry enough to win. Clay was the first to notice Liston spit out his mouth guard; he moved to the middle of the ring with his arms raised, dancing the jig that would become known as the "Ali Shuffle" while Howard Cosell, broadcasting at ringside, shouted "wait a minute!" "wait a minute!"
Liston failed to answer the bell for the seventh round and Clay was declared the winner by technical knockout. It was the first time since 1919 that a heavyweight champion had quit sitting on his stool.
Sensing that he had made history, Clay quickly ran to the ropes and shouted at sportswriters, "eat your words!" In a scene that has been rebroadcast countless times over the ensuing decades, Clay repeatedly yelled "I'm the greatest!" and "I shook up the world!"
At St. Francis Hospital, where Liston was taken after the fight, he reportedly said, "That's not the guy I was supposed to fight. That guy could hit."
Read about the legacy of this fight at: Daily Black History Facts