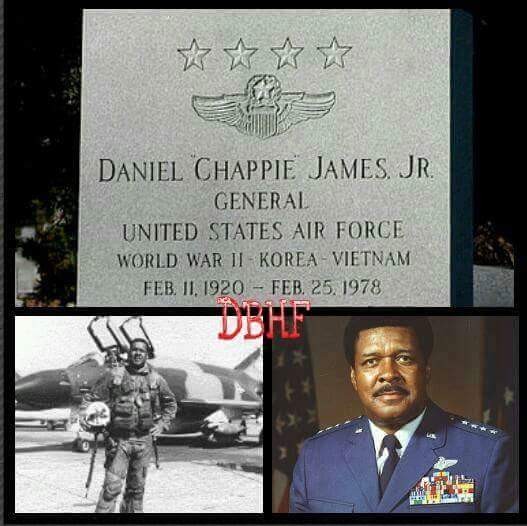 General Daniel James died of a heart attack, just two weeks after his 58th birthday and three weeks following his retirement from the Air Force.
Daniel "Chappie" James Jr., was a fighter pilot in the U.S. Air Force, who in 1975 became the 1st African- American to reach the rank of four-star general.
ACHIEVEMENTS: He was named vice commander of the 33rd TFW at Eglin Air Force Base, Florida, in December 1967.
While stationed at Eglin, the Florida State Jaycees named James as Florida's "Outstanding American of the Year" for 1969, and he received the Jaycee Distinguished Service Award. He was transferred to Wheelus Air Base in the Libyan Arab Republic in August 1969 as Commander of the 7272nd Fighter Training Wing.
James became Deputy Assistant Secretary of Defense (Public Affairs) in March 1970 and was designated principal Deputy Assistant Secretary of Defense (Public Affairs) in April 1973.
On September 1, 1974, he assumed duty as vice commander of the Military Airlift Command (MAC), headquartered at Scott Air Force Base, Illinois.
James was promoted to four-star grade and assigned as commander in chief of NORAD/ADCOM at Peterson Air Force Base, Colorado, on September 1, 1975. In these dual capacities he had operational command of all United States and Canadian strategic aerospace defense forces.
On December 6, 1977, he assumed duty as special assistant to the Chief of Staff, U.S. Air Force.
General James was widely known for his speeches on Americanism and patriotism, for which he was editorialized in numerous national and international publications. Excerpts from some of the speeches have been read into the Congressional Record.
James was awarded the George Washington Freedom Foundation Medal in both 1967 and 1968.
James received the Arnold Air Society Eugene M. Zuckert Award in 1970 for outstanding contributions to Air Force professionalism. His citation read "… fighter pilot with a magnificent record, public speaker, and eloquent spokesman for the American Dream we so rarely achieve."
Read about his honors at: Daily Black History Facts