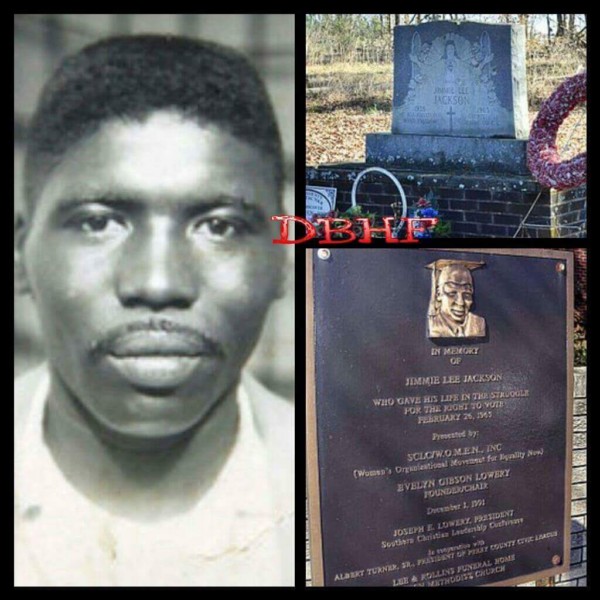 Jimmie Lee Jackson had been shot twice days earlier when he went to help his mother and grandfather as state troopers were viciously beating them in an attack on civil rights marchers in Marion, Alabama.
Jimmie Lee Jackson was a civil rights protestor who was shot and killed by Alabama State Trooper James Bonard Fowler in 1965. Jackson was unarmed. His death inspired the Selma to Montgomery marches, an important event in the American Civil Rights movement.
NON-VIOLENT PROTEST: On the night of February 18, 1965, around 500 people left Zion United Methodist Church in Marion and attempted a peaceful walk to the Perry County Jail about a half a block away where young Civil Rights worker James Orange was being held. The marchers planned to sing hymns and return to the church. Police later stated they believed the crowd was planning a jailbreak.

POLICE ATTACKS: Protesters were met at the Post Office by a line of Marion City police officers, sheriff's deputies, and Alabama State Troopers. In the standoff, streetlights were abruptly turned off (some sources say they were shot out by the police), and the police began to beat the protestors.
Among those beaten were two United Press International photographers, whose cameras were smashed, and NBC News correspondent Richard Valeriani, who was beaten so badly that he was hospitalized. The marchers turned and scattered back towards the church.
26 year old Jimmie Lee Jackson, his mother Viola Jackson, and his 82-year-old grandfather, Cager Lee, ran into Mack's Café behind the church, pursued by Alabama State Troopers. Police clubbed Cager Lee to the floor in the kitchen. The police continued to beat the cowering octogenarian Lee, and when his daughter Viola attempted to pull the police off, she was also beaten.
When Jimmie Lee attempted to protect his mother, one trooper threw him against a cigarette machine. A second trooper shot Jimmie Lee twice in the abdomen. James Bonard Fowler later admitted to being that trooper.
Although shot twice, Jimmie Lee fled the café amid additional blows from police clubs and collapsed in front of the bus station. Jackson made a statement to a lawyer, Oscar Adams of Birmingham in the presence of FBI officials stating he was "clubbed down" by State Troopers after he was shot and had run away from the café.
Jimmie Lee Jackson died at Good Samaritan Hospital in Selma, on February 26, 1965. After his death, Sister Michael Anne, an administrator at Good Samaritan, said there were powder burns on Mr. Jackson's abdomen, indicating that he was shot at very close range.
Read more about the aftermath of his death at: Daily Black History Facts