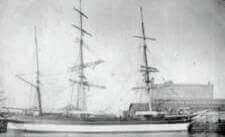 The first 86 African American freed slaves sponsored by the American Colonization Society depart the New York harbor to start a settlement in present-day Liberia aboard The Mayflower of Liberia.
The American Colonization Society ("The Society for the Colonization of Free People of Color of America"), established in 1817 by Robert Finley of New Jersey, was the primary vehicle to support the return of free African Americans to what was considered greater freedom in Africa.
Paul Cuffee, a wealthy mixed-race New England shipowner and activist, was an early advocate of settling freed blacks in Africa. He gained support from black leaders and members of the US Congress for an emigration plan. In 1811 and 1815–16, he financed and captained successful voyages to British-ruled Sierra Leone, where he helped African-American immigrants get established.
Although Cuffee died in 1817, his efforts may have inspired the American Colonization Society (ACS) to initiate further settlements.
Read more stories like this at: Daily Black History Facts