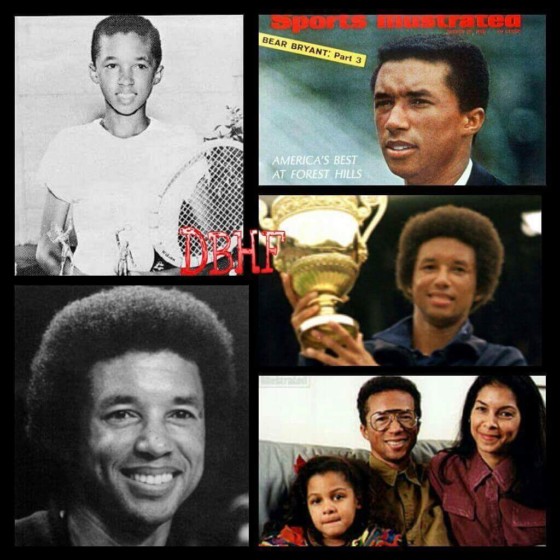 Arthur Ashe died from AIDS-related pneumonia at New York Hospital. 
His funeral was held at the Arthur Ashe Athletic Center in Richmond, Virginia on February 10. Then-governor Douglas Wilder, who was a friend of Ashe's, allowed his body to lie in state at the Governor's Mansion in Richmond. Andrew Young, who had performed the service for Ashe's wedding in 1979, officiated his funeral. 
Over 6,000 mourners attended. Ashe requested that he be buried alongside his mother, Mattie, who died 1950, in Woodland Cemetery in Richmond, Virginia.
On February 12, 1993, a memorial service for Ashe was held at the Cathedral of Saint John the Divine in Manhattan.
Ashe's widow, Jeanne Moutoussamy-Ashe, continues with civil rights activism, most recently contributing a video to New Yorkers for marriage equality.
Arthur Robert Ashe was a World No. 1 professional tennis player. He won three Grand Slam titles, ranking him among the best tennis players from the United States.
Ashe, an African American, was the 1st African-American player ever selected to the United States Davis Cup team and the ONLY black man ever to win the singles title at Wimbledon, the US Open, and the Australian Open. He retired in 1980.
He was ranked World No. 1 by Harry Hopman in 1968 and by Lance Tingay of The Daily Telegraph and World Tennis Magazine in 1975. In the ATP computer rankings, he peaked at No. 2 in May 1976.
In the late 1980s, Ashe contracted HIV from a blood transfusion he received during heart bypass surgery. Ashe publicly announced his illness in April 1992 and began working to educate others about HIV and AIDS. He founded the Arthur Ashe Foundation for the Defeat of AIDS and the Arthur Ashe Institute for Urban Health before his death.
On June 20, 1993, Ashe was posthumously awarded the Presidential Medal of Freedom by President Bill Clinton.
Read more about his legacy & honors at: Daily Black History Facts