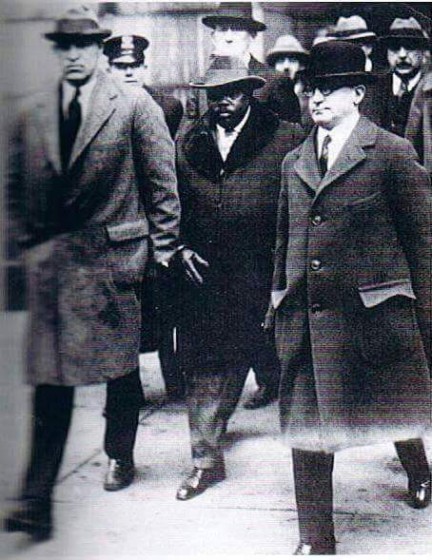 Marcus Garvey is taken to Atlanta Federal Penitentiary and to begin serving his 5 year sentence for his conviction of mail fraud.
Two days later, he penned his well known "First Message to the Negroes of the World From Atlanta Prison", wherein he made his famous proclamation:
"Look for me in the whirlwind or the storm, look for me all around you, for, with God's grace, I shall come and bring with me countless millions of black slaves who have died in America and the West Indies and the millions in Africa to aid you in the fight for Liberty, Freedom and Life."
Professor Judith Stein has stated, "his politics were on trial."
Garvey's sentence was eventually commuted by President Calvin Coolidge. Upon his release in November 1927, Garvey was deported via New Orleans to Jamaica, where a large crowd met him at Orrett's Wharf in Kingston. Though the popularity of the UNIA diminished greatly following Garvey's expulsion, he nevertheless remained committed to his political ideals.
Read more about his imprisonment at: Daily Black History Facts