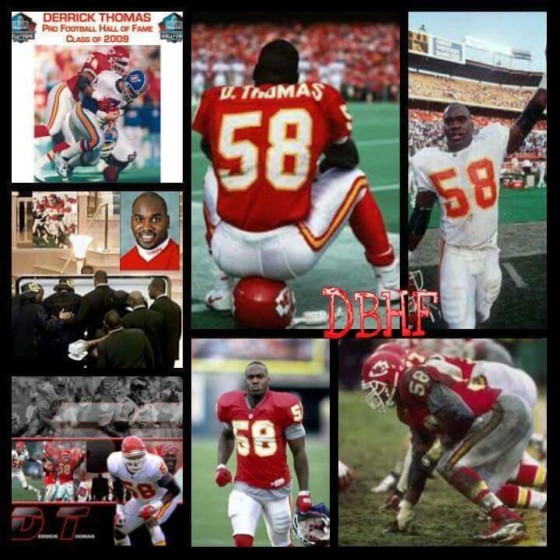 Derrick Thomas died from a massive blood clot that developed in his paralyzed lower extremities and traveled to his lungs. His paralysis was the result of severe injuries sustained in a car accident weeks earlier.
Derrick Vincent Thomas, nicknamed D.T., was a football linebacker and defensive end for the Kansas City Chiefs of NFL . He played his entire 11-year career for the Chiefs after being drafted fourth overall in the 1989 NFL Draft. Thomas, part of the class of 2009 entering the Pro Football Hall of Fame, was a premier football player throughout the 1990s and is considered one of the best pass rushers of all-time.
In 1990 against the Seattle Seahawks, he set an NFL record with seven sacks in a single game.
CAR ACCIDENT: On January 23, 2000, Thomas' 1999 Chevrolet Suburban went off Interstate 435 as he and two passengers were driving to Kansas City International Airport during a snowstorm, where he was going to fly to St. Louis to watch the NFC Championship game.
Police reports indicate that Thomas, who was driving, was speeding at approximately 100 m.p.h and weaving through traffic at the time of the accident. Thomas and one of the passengers were not wearing seat belts and both were thrown from the car; the passenger was killed instantly.
The second passenger, who was wearing his safety belt, walked away from the scene uninjured. Thomas was left paralyzed from the chest down. By early February, Thomas was being treated at Miami's Jackson Memorial Hospital.
THOMAS' DEATH: The morning of February 8, 2000, while being transferred from his hospital bed to a wheelchair on his way to therapy, Thomas told his mother he was not feeling well. His eyes then rolled back, recalled Frank Eismont, an orthopedic surgeon at Jackson Memorial Hospital.
Eismont said Thomas went into cardio-respiratory arrest and died as a result of a pulmonary embolism; a massive blood clot that developed in his paralyzed lower extremities and traveled through his venous system to his lungs.
Months later, Thomas' mother, Edith Morgan, his 7 children and their 5 mothers sued General Motors in an attempt to make them take financial responsibility for the accident that Thomas caused, seeking at least $73 million.
In 2004 a jury ruled the family was not entitled to any money.
Read about Thomas' legacy at: Daily Black History Facts