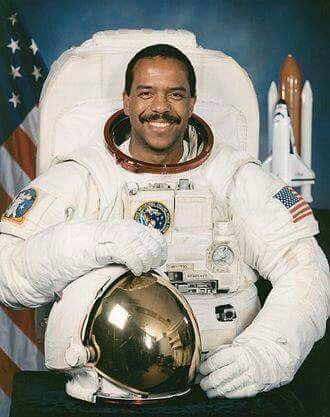 Bernard Harris became the 1st African American to perform an extra-vehicular activity (spacewalk), during the second of his two Space Shuttle flights.

ORGANIZATIONS & HONORS:
🚀Harris is a member of many professional,academic and service organizations, including the American College of Physicians, Honor Society of Phi Kappa Phi, and Kappa Alpha Psi Fraternity.
🚀He is a board member of the Boys and Girls Club of Houston, National Math and Science Initiative, Medical Informatics, Technology and Applications Center, Houston Technology Center, and the National Space Biomedical Research Institute, Board of Scientific Counselors.
🚀He has been recognized several times by NASA and other organizations for his professional and academic achievements.
🚀In 1996 he received an honorary doctorate from the Morehouse College School of Medicine. He later received honorary doctorates from Stonybrook University, New Jersey Institute of Technology, and the University of Houston.
🚀He has also received a NASA Space flight medal, a NASA Award of Merit, a fellow of the American College of Physicians and the 2000 Horatio Alger Award.
🚀In 2005, the North East Independent School District in San Antonio, Texas named a middle school under construction after Harris. The Bernard Harris Middle School opened August 14, 2006, to have a capacity of 1500 students.
Read more stories like this at: Daily Black History Facts