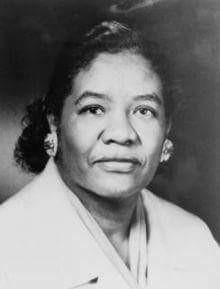 Dr. Dorothy Lavinia Brown, also known as "Dr. D.", was a surgeon and teacher. She was the 1st female surgeon of African-American ancestry from the Southeastern United States.
She was also the 1st african american to serve in the Tennessee General Assembly having been elected to the Tennessee House of Representatives.
RECOGNITIONS: 
●In 1959, she became the third woman to become a Fellow of the American College of Surgeons.
●In 1971, the Dorothy L. Brown Women's Residence at Meharry Medical College, Nashville, was named after her.
●She also received honorary doctorate degrees from the Russell Sage College in Troy, New York, and also from Bennett College in Greensboro, North Carolina.
●In particular, she received her honorary degrees in the Humanities from Bennett College and Cumberland University.
●Brown was a member of the board of trustees at Bennett College and of the Delta Sigma Theta sorority. She participated as a speaker on panels that discussed scientific, religious, medical, and political issues.
Read more amazing stories like this at: Daily Black History Facts