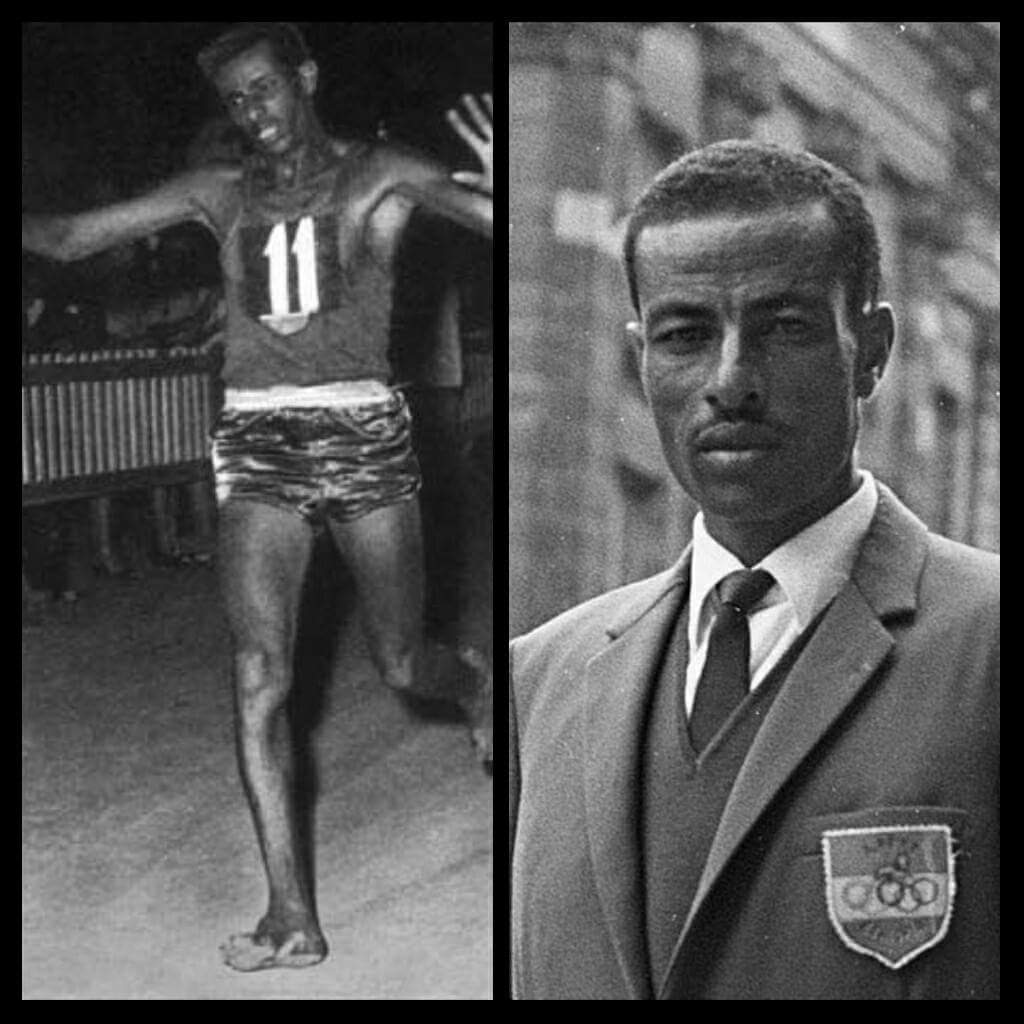 Abebe Bikila was a double Olympic marathon champion from Ethiopia, most famous for winning a marathon gold medal in the 1960 Summer Olympics while running barefoot.
On October 25, 1973, at 41, Abebe Bikila died in Addis Ababa from a cerebral hemorrhage, a complication related to the accident four years earlier. He left behind his wife and four children. His funeral in Addis Ababa was attended by 75,000 and Emperor Haile Selassie I of Ethiopia proclaimed a national day of mourning for Ethiopia's national hero.
LEGACY: ?Newspapers throughout Africa eulogized him as an inspiration to their own distance runners, some of whom won gold medals in future Olympics. Bikila was interred at Saint Joseph's Church Cemetery in Addis Ababa.
?5 years after his death, New York Road Runners inaugurated an annual award in his honor – the Abebe Bikila Award, which is given to individuals for their contribution to long-distance running.
?A stadium in Addis Ababa is named in his honor.
?The American Community School of Addis Ababa dedicated its gymnasium to Abebe Bikila in the late 1960s.
?In August 2005, with the assistance of A Glimmer of Hope Foundation and its supporters Isabel and Dave Welland, an Oromo school named Yaya Abebe Bikila Primary Village School was erected in Bikila's honor by the local Mendida community. The school sits a few hundred meters from the remains of the village of Jato.


?In 2010, the Rome Marathon celebrated 50 years of Abebe Bikila's Olympics Race. To honour him, Ethiopian runner Siraj Gena ran the last 300 meters of the race barefoot and won it (for this he was awarded 5000 euro bonus).

POPULAR CULTURE: ?Bikila's victory at the 1964 Olympics is featured in the 1965 documentary film Tokyo Olympiad. Footage from that film was later recycled for the 1976 thriller film Marathon Man.
?Bikila was featured in the Bud Greenspan film "The Marathon". It chronicled his two Olympic victories and ended with a dedication ceremony for a gymnasium named for him shortly before his death.
?2009 Atletu (The Athlete) is a film directed by Davey Frankel and Rasselas Lakew which focuses on the final years of Bikila's life: his quest to regain Olympic glory, his accident (the circumstances of which are changed), his determination to compete again. The film was shot in 35mm, from the Arctic Circle to the Equator.
?In 2010, Vibram introduced the "Bikila" model of its Five Fingersline of minimalist shoes.
?Robin Williams made reference to Bikila's barefoot running in his stand-up special "Weapons of Self Destruction", saying, "[Bikila] won the Rome Olympics running barefoot. He was then sponsored by Adidas. He ran the next Olympics; he carried the fucking shoes."