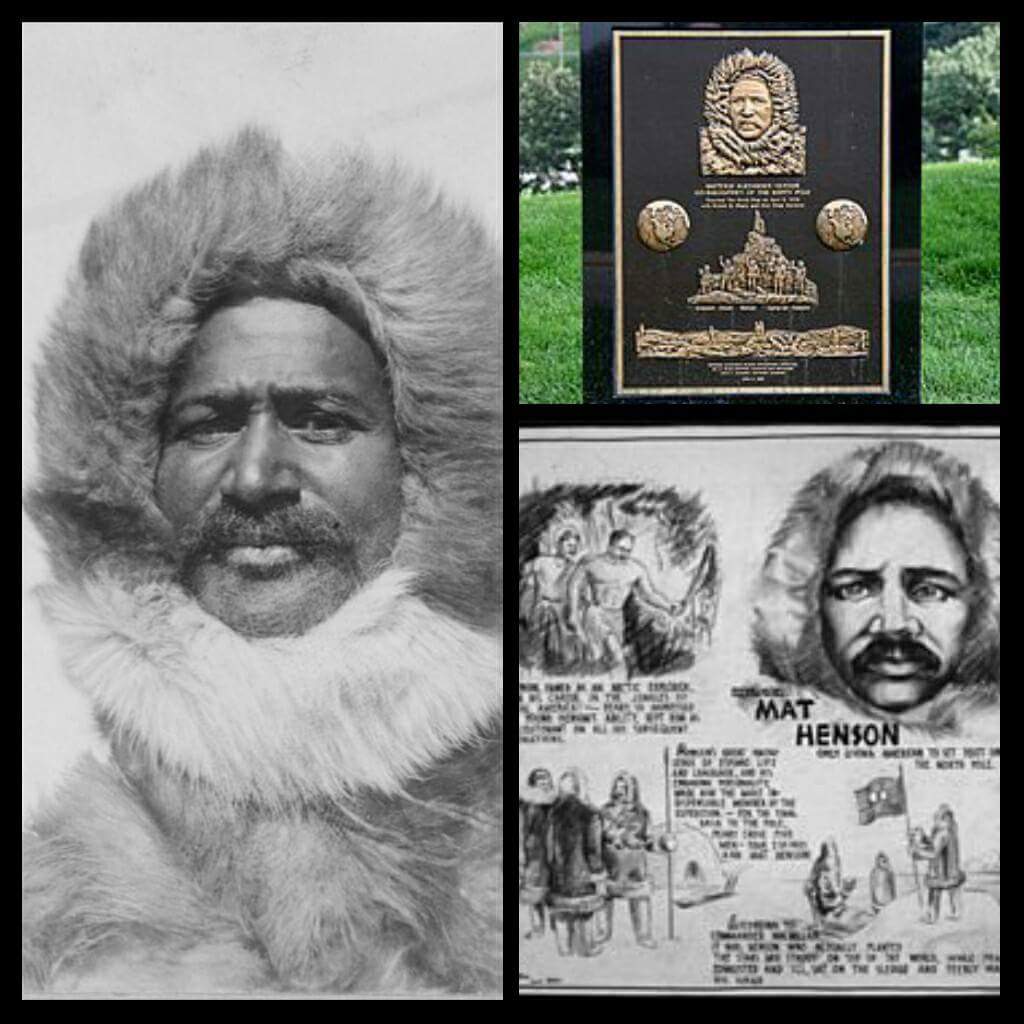 Matthew Alexander Henson was an African American explorer and associate of Robert Peary on various expeditions, the most famous being a 1909 expedition during which he was the 1st person to reach the Geographic North Pole.
HONORS: ?The Explorers Club, under its "polar" President Vilhjalmur Stefansson, invited Henson to join its ranks in 1937. Eleven years later the Club reconsidered Henson's membership and instead awarded Henson its highest rank of Honorary Member, an honor reserved for no more than 20 living members at a time.
?On May 28, 1986, the United States Postal Service issued a 22 centpostage stamp in honor of Henson and Peary; they were previously honored in 1959, but not by name.
?On April 6, 1988 Henson was reinterred in Arlington National Cemetery near Peary's monument. Many members from his American family and his Inuit family (Anauakaq's children) were in attendance.
?In October 1996, the United States Navy commissioned USNS Henson, a Pathfinder class Oceanographic Survey Ship, in honor of Matthew Henson.
?On November 28, 2000, the National Geographic Society awarded the Hubbard Medal to Matthew A. Henson posthumously. Dr. S. Allen Counter petitioned the National Geographic Society for many years to present its most prestigious medal to Henson. He attended the ceremony with Audrey Mebane, Henson's 74-year-old great-niece. The medal was presented at the newly named Matthew A. Henson Earth Conservation Center in Washington, D.C., and accompanied a scholarship given in Henson's name by NGS.
?The Matthew Henson Earth Conservation Center in Washington, D.C. is named for him, as are Matthew Henson State Park in Aspen Hill, Maryland, Matthew Henson Middle School in Pomonkey, Maryland, Matthew Henson Elementary School in Baltimore, Maryland and Matthew Henson Elementary School in Palmer Park, Maryland. Matthew Henson lived for a time in the landmarkDunbar Apartments in Harlem, in New York City.
?In 2002, scholar Molefi Kete Asante listed Matthew Henson on his list of 100 Greatest African Americans.
LEGACY: ⏹Henson's exploits and life were portrayed in the 1998 TV movieGlory & Honor. Henson was played by Delroy Lindo, and Henry Czerny played Robert Peary. The film won a Primetime Emmy and a Golden Satellite Award for Lindo's performance as Henson.
■Henson's role in polar expeditions was part of E.L. Doctorow's book Ragtime.
■In 2012, Simon Schwartz's graphic-novel about Matthew Henson's life entitled Packeis (pack ice) won the Max & Moritz Prize for the Best German-language comic book.