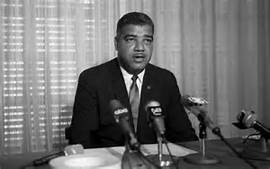 Whitney Moore Young Jr., was a civil rights leader. He spent most of his career working to end employment discrimination in the United States and turning the National Urban League from a relatively passive civil rights organization into one that aggressively fought for equitable access to socioeconomic opportunity for the historically disenfranchised.
On March 11, 1971, 49 year old Whitney Young died of a heart attack after swimming with friends in Lagos, Nigeria, where he was attending a conference sponsored by the African-American Institute. President Nixon sent a plane to Nigeria to collect Young's body and traveled to Kentucky to deliver the eulogy at Young's funeral.
HIS LEGACY:   
⏺Whitney Young's legacy, as President Nixon stated in his eulogy, was that "he knew how to accomplish what other people were merely for."
⏺Young's work was instrumental in breaking down the barriers of segregation and inequality that held back African Americans.
⏺Hundreds of schools and other sites are named for Young. For instance, in 1973, the East Capitol Street Bridge in Washington, D.C., was renamed the Whitney Young Memorial Bridge in his honor.
⏺Clark Atlanta University named its School of Social Work, where Whitney Young served as Dean, in Young's honor. The Whitney M. Young School of Social Work is well known for founding the "Afro-Centric" perspective of social work.
⏺The Boy Scouts of America created the Whitney M. Young Jr. Service Award to recognize outstanding services by an adult individual or an organization for demonstrated involvement in the development and implementation of Scouting opportunities for youth from rural or low-income urban backgrounds.
⏺Whitney Young High School in Chicago was named after him. Whitney M. Young High School in Cleveland, Ohio was also named after him.
⏺Young's birthplace (Whitney Young Birthplace and Museum) in Shelby County, Kentucky is a designated National Historic Landmark, with a museum dedicated to Young's life and achievements.
⏺Young was honored on a United States Postage stamp as part of its on-going Black Heritage series.
⏺In 1973, The African American MBA Association at The Wharton School, University of Pennsylvania held its first Annual Whitney M. Young Jr. Memorial Conference. After 38 years, the Whitney M. Young Jr. Memorial Conference is the longest student-run conference held at The Wharton School.