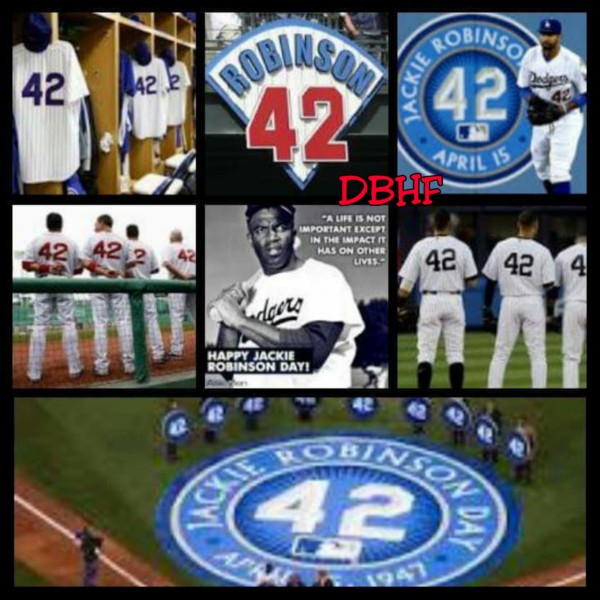 April 15, 1947: Jackie Robinson debuted for the Brooklyn Dodgers, breaking baseball's color line. Robinson's wife, Rachel, brought their newborn son to that first game at Ebitts Field in Brooklyn.
There was a crowd of 26,623 spectators, including more than 14,000 black patrons. Although he failed to get a base hit, he walked and scored a run in the Dodgers' 5-3 victory. Robinson became the first player since 1880 to openly break the major league baseball color line. African-American fans began flocking to see the Dodgers when they came to town, abandoning their Negro league teams.
Jackie Robinson Day is a traditional event which occurs annually in Major League Baseball, commemorating and honoring the day Jackie Robinson made his major league debut. April 15 was Opening Day in 1947, Robinson's first season in the Major Leagues.
Initiated for the guest time on April 15, 2004, Jackie Robinson Day is celebrated each year on that day. The festivity is a result of Robinson's memorable career, best known for becoming the first black major league baseball player of the modern era in 1947.
Robinson's debut with the Brooklyn Dodgers (today known as the Los Angeles Dodgers) ended approximately eighty years of baseball segregation, also known as the baseball color line, or color barrier. He also was inducted into the Baseball Hall of Fame in 1962, remembered for his services with the number 42 jersey.
The gala is often celebrated at varied ballparks by Major League team players. Shea Stadium was one of the prominent venues hosting the event, having commemorated the retirement of Robinson's number 42 jersey in 1997.
The numbered jersey is still worn to mark the event every year. Bob DuPuy, the President and Chief Operating Officer of Major League baseball, described Jackie Robinson Day as a significance "not only for baseball, but for our country in general."
Read more sports stories like this at: Daily Black History Facts