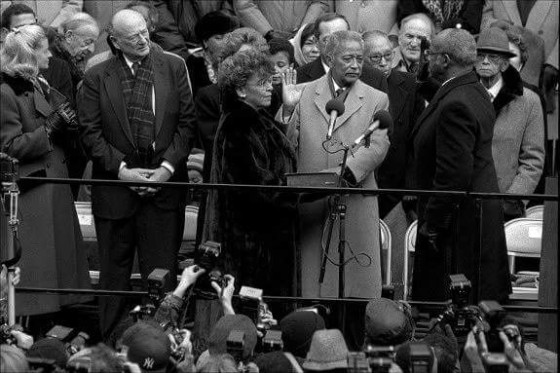 David Dinkins was sworn in as New York City's 1st African-American mayor, and is, to date, the only African American to hold that office.
MAYORALTY: Dinkins entered office pledging racial healing, and famously referred to New York City's demographic diversity as a "gorgeous mosaic." Dinkins' term was marked by polarizing events such as the boycott of Korean-owned groceries in Flatbush and the 1991 Crown Heights riot. When Lemrick Nelson was acquitted of killing Yankel Rosenbaum during the riot, Dinkins said "I have no doubt that in this case the criminal-justice system has operated fairly and openly."
Although rates of most crimes, including all categories of violent crime, made consecutive declines during the last 36 months of his four-year term, ending a 30-year upward spiral and initiating a trend of falling rates that continued beyond his term, Dinkins was hurt by the perception that crime was out of control during his administration. Dinkins also initiated a hiring program that expanded the police department nearly 25%.
Read more stories like this at: Daily Black History Facts