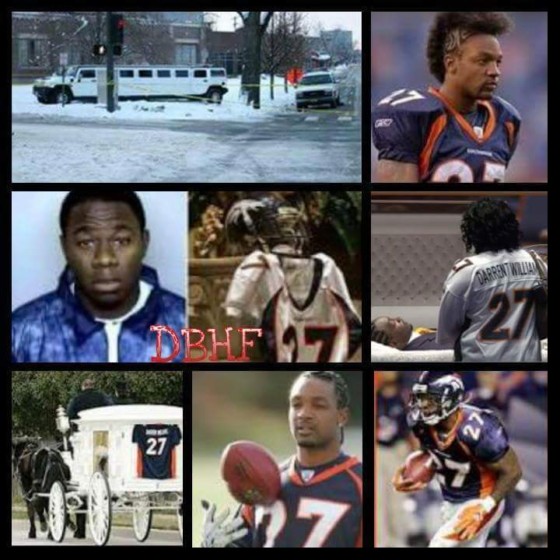 24 year old Darrent Williams was killed during a drive-by shooting at approximately 2:10 a.m.
Williams and two other passengers were shot when another vehicle pulled beside his rented Hummer H2 limousine in downtown Denver, Colorado. The shooting occurred near 11th Ave. and Speer Blvd. It happened less than 12 hours after the Broncos played their final game of the 2006 season against the San Francisco 49ers in Denver.
Darrent Demarcus Williams was a pro-football player for the Denver Broncos of the NFL.
DEATH: Williams had been attending a New Year's Eve party and birthday party held for and by Denver Nuggets player Kenyon Martin at the nightclub Safari. The Denver Police Department reported that the shooting was preceded by some type of altercation or argument at the nightclub between Crips gang members and other patrons, one of whom was Broncos teammate Brandon Marshall.
A police spokesman said, "There was some confrontation between a group of people in the vehicle and a group at the nightclub." Williams was not involved in the altercation. Marshall was "one of the instigators of the fight" according to a report by ESPN.
According to the county coroner's office, Williams sustained a single gunshot wound to the neck, killing him almost instantly.
After Williams was shot, he fell in the lap of Broncos teammate Javon Walker. He was pronounced dead around 2:30 a.m. The two other passengers injured in the shooting were both released from the hospital the day after the shooting.
Read about the aftermath of his murder at: Daily Black History Facts