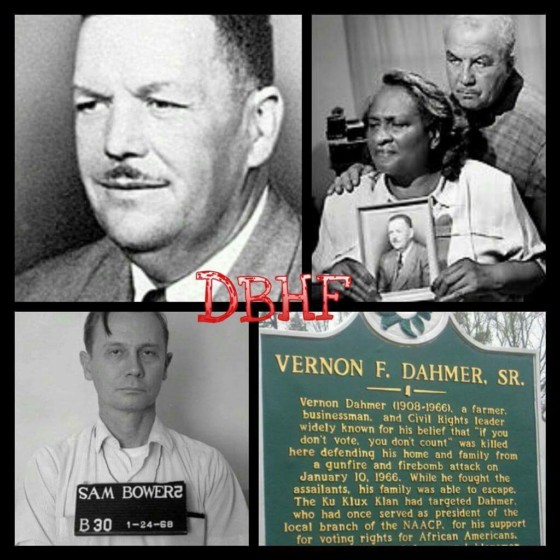 As his wife, Ellie, and their children escaped the inferno, gunshots were fired from the streets and Vernon returned fire from inside the house. He was severely burned from the waist up before he could escape and died the next day. The Dahmer home, grocery store, and car were destroyed in the fire.
Vernon Ferdinand Dahmer, Sr. was a civil rights leader and president of the Forrest County chapter of the NAACP in Hattiesburg, Mississippi.
REACTION &TRIALS: The Hattiesburg area was stunned by the attack. The Chamber of Commerce under William Carey College President Dr. Ralph Noonkester led a community effort to rebuild the Dahmer home.
Local and state businesses such as the Masonite Corporation, Alexander Materials, and Frierson Building Materials donated materials, local unions donated their services, and students from the University of Southern Mississippi volunteered unskilled labor.
Authorities indicted 14 men, most with Ku Klux Klan connections, for the attack on the Dahmer home. 13 were brought to trial, 8 on charges of arson and murder. 4 were convicted and 1 entered a guilty plea.
In addition, 11 of the defendants were tried on federal charges of conspiracy to intimidate Dahmer because of his civil rights activities.
Former Ku Klux Klan Imperial Wizard Sam Bowers, who was believed to have ordered the murder, was tried 4 times, but each trial ended in a mistrial.
Read more about the case reopening at: Daily Black History Facts