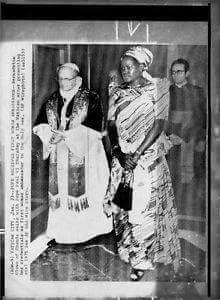 Bernadette Olowo of Uganda became the 1st female ambassador to the Vatican. Pope Paul VI broke a 900 year old policy by accepting a woman as an envoy from to the Vatican.
Bernadette Olowo was appointed by Uganda, which had 3.5 million Roman Catholics, more than any other nation in Africa, and was also that nation's ambassador to West Germany.
A spokesman for the Vatican said, "The acceptance of a woman ambassador will be subject to the same rules as men," including good moral behavior and compliance with for Roman Catholic doctrine.
The year before, the Pope had rejected an Australian nomination of a woman ambassador because she was a divorcee. 41 years earlier, Pope Pius XI had declared that women should not work at any occupation outside of the church.
Read more stories like this at: Daily Black History Facts