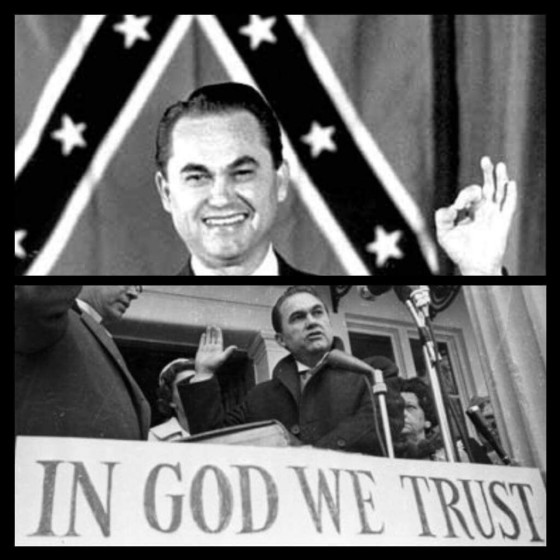 Wallace was sworn in as Governor of Alabama and in his infamous inaugural address vowed, "segregation now … segregation tomorrow … segregation forever."
1963 INAUGURAL ADDRESS: After his election, Wallace wanted to make it clear he intended to keep his campaign promise to fight against integration. Carter spent several weeks writing the inaugural address, and on January 14, 1963 after taking the oath of office Wallace delivered it from the portico of the Alabama State Capitol. This was the exact place where Jefferson Davis had been sworn in as the President of the Confederate States of America, a fact which was pointedly noted in the speech.
During the speech Wallace declared:
"In the name of the greatest people that have ever trod this earth, I draw the line in the dust and toss the gauntlet before the feet of tyranny, and I say segregation now, segregation tomorrow, segregation forever!"
Both Carter and Wallace realized that would be the phrase for which his speech would be remembered. The "tyranny" Wallace referred to was his way of characterizing the federal government's attempts at integration in Alabama. This was one of the central themes of his speech—that by implementing desegregation laws and policies the federal government was oppressing the people of Alabama and depriving them of their rights. During his term as governor, Wallace would receive national attention as he continued to frame segregation as a states' rights issue, and integration as something imposed upon the South by the federal government.
The speech also presented the case that racial differences were similar to political or religious differences. Wallace argued that people had "racial or cultural freedom" which gave them the right to live in a culture of segregation, in the same way they had freedom to choose their political party and religious denomination. The "great freedom of our American founding fathers," Wallace claimed, was that "each race, within its own framework has the freedom to teach, to instruct, to develop, to ask for and receive deserved help from others of separate racial stations."
Read about the reactions to his speech at: Daily Black History Facts