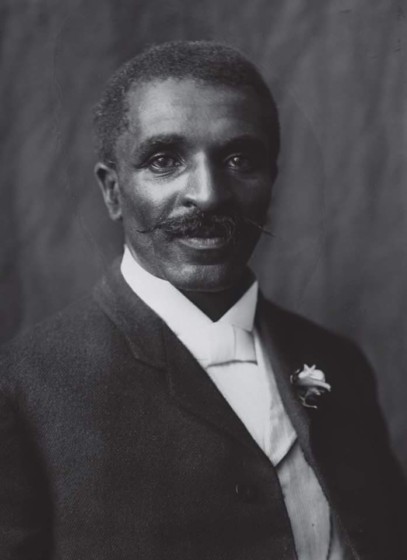 Upon returning home one day, Carver took a bad fall down a flight of stairs; he was found unconscious by a maid who took him to a hospital. He died from complications (anemia) resulting from this fall. He was buried next to Booker T. Washington at Tuskegee University.
Due to his frugality, Carver's life savings totaled $60,000, all of which he donated in his last years and at his death to the Carver Museum and to the George Washington Carver Foundation.
On his grave was written, "He could have added fortune to fame, but caring for neither, he found happiness and honor in being helpful to the world."
George Washington Carver was a scientist, botanist, educator, and inventor. The exact day and year of his birth are unknown; he is believed to have been born into slavery in Missouri in January 1864.
Carver's reputation is based on his research into and promotion of alternative crops to cotton, such as peanuts, soybeans and sweet potatoes, which also aided nutrition for farm families. He wanted poor farmers to grow alternative crops both as a source of their own food and as a source of other products to improve their quality of life. The most popular of his 44 practical bulletins for farmers contained 105 food recipes using peanuts. He also developed and promoted about 100 products made from peanuts that were useful for the house and farm, including cosmetics, dyes, paints, plastics, gasoline, and nitroglycerin.
He received numerous honors for his work, including the Spingarn Medal of the NAACP.
Read more about his life & legacy at: Daily Black History Facts