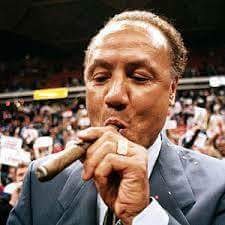 Atlanta Coach Lenny Wilkens passed the legendary Red Auerbach to become the NBA's all-time winningest coach, with 939 career victories, after the Hawks defeated Washington 112-90 at the Omni. 
Wilkens reached the victory record in his 22nd year as an NBA coach, including four as a player-coach.
In tribute to Auerbach, Wilkens puffed on a post game victory cigar.
Read more stories like this: Daily Black History Facts