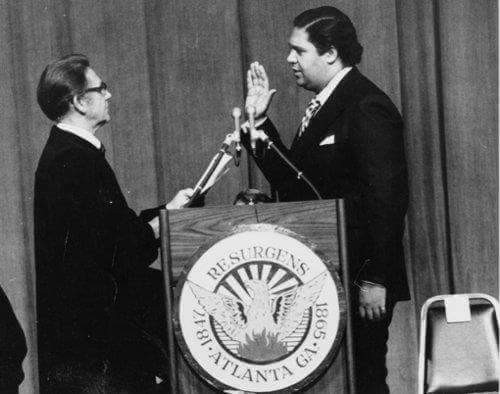 Jackson became the 1st African-American mayor of Atlanta. He served three terms, two consecutive terms from 1974 until 1982 and a third term from 1990 to 1994. 
MAYOR OF ATLANTA: During Jackson's first term as the mayor, much progress was made in improving race relations in and around Atlanta. As mayor, he led the beginnings and much of the progress on several huge public-works projects in Atlanta and its region. He helped arrange for the rebuilding of the Hartsfield Atlanta International Airport's huge terminal to modern standards, and this airport was renamed the Hartsfield-Jackson Atlanta International Airport in his honor, shortly after his death. 
Also named after him is the new international terminal at Hartsfield-Jackson Airport called the Maynard Holbrook Jackson Jr. International Terminal, which opened in May 2012. He also fought against the construction of freeways through intown neighborhoods.
Jackson's first term as mayor also coincided with the Atlanta Child Murders case between 1979–81, which he played a prominent role in resolving, both in supporting the Atlanta Police and other police forces in the area, but also by endeavoring to calm the huge amount of public tension that arose because of these serial killings. The murderer, Wayne Williams, was caught in 1981, tried, convicted, and sentenced to serve two consecutive life sentences in prison.
Read about the racism and legacy at: Daily Black History Facts