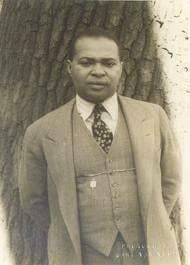 Cullen died from high blood pressure and uremic poisoning. Countee Cullen was a poet who was a leading figure in the Harlem Renaissance. He pronounced his name "Coun-tay".
EDUCATION: After graduating high school, he entered New York University (NYU). In 1923, he won second prize in the Witter Bynner undergraduate poetry contest, which was sponsored by the Poetry Society of America, with a poem entitled The Ballad of the Brown Girl. At about this time, some of his poetry was promulgated in the national periodicals Harper's, Crisis,Opportunity, The Bookman, and Poetry. The ensuing year he again placed second in the contest and finally winning it in 1925.
Cullen competed in a poetry contest sponsored by Opportunity. and came in second with To One Who Say Me Nay, while losing to Langston Hughes's The Weary Blues. Sometime thereafter, Cullen graduated from NYU as one of eleven students selected to Phi Beta Kappa.
Cullen entered Harvard in 1925, to pursue a masters in English, about the same time his first collection of poems, Color, was published. Written in a careful, traditional style, the work celebrated black beauty and deplored the effects of racism. The book included "Heritage" and "Incident", probably his most famous poems.
"Yet Do I Marvel", about racial identity and injustice, showed the influence of the literary expression of William Wordsworth and William Blake, but its subject was far from the world of their Romantic sonnets. The poet accepts that there is God, and "God is good, well-meaning, kind", but he finds a contradiction of his own plight in a racist society: he is black and a poet. Cullen's Color was a landmark of the Harlem Renaissance.
He graduated with a masters degree in 1926.
Read about his legacy at: Daily Black History Facts