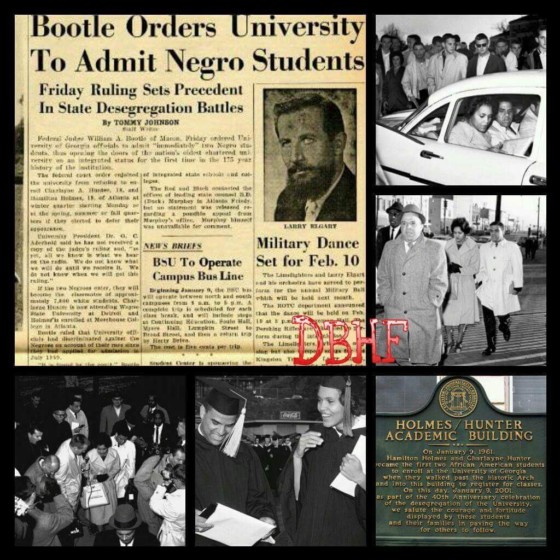 After last-ditch efforts led by Georgia Governor S. Ernest Vandiver, were turned back by the United States Supreme Court, Charlayne Hunter and Hamilton Holmes finally got their chance to register for classes at the University Of Georgia (UGA). They were the 1st two African-American students to enroll in the University of Georgia.
The University of Georgia Academic Building is named for Hamilton Holmes & Charlayne Hunter-Gault, as it is called the Holmes/Hunter Academic Building, as of 2001.
Also in 2012, Emory University has dedicated a new dorm in his honor, called Hamilton Holmes Hall.
BACKGROUND: When Hunter and Holmes initially tried to apply in the Winter Quarter of 1959 at UGA, they were not accepted because of "limited space." Holmes attended Morehouse College with a full scholarship, but continued to re-submit applications every quarter, in hopes of gaining access to the University's better science facilities.
Walter Danner, the University Registrar , wrote a letter to President Aderhold, recommending that Aderhold only admit transfer students who needed to leave their present school in order to complete their degrees, or freshman who had never attended college. Holmes fit neither of these categories and was rejected.
On September 2, 1960, Holmes and Hunter-Gault filed a civil suit against Danner for the repeated refusal of their application. Finally, their complaints went to trial and Judge William Bootle issued a ruling stating that Holmes and Hunter-Gault "would have already been admitted had it not been for their race and color."
Read more about their historic journey at: Daily Black History Facts