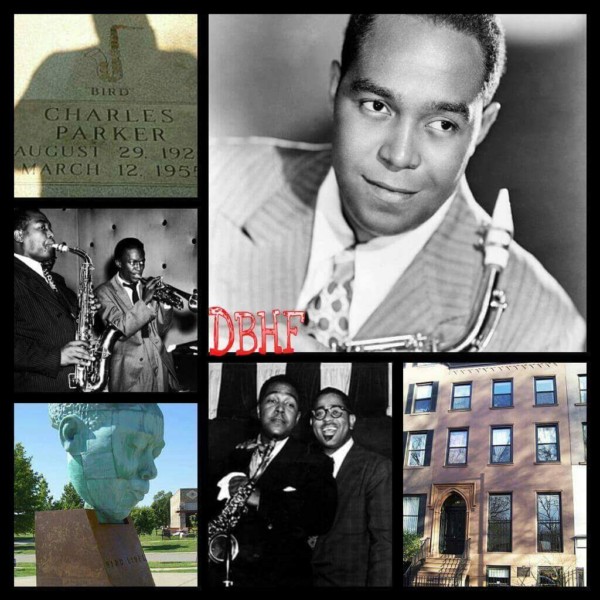 At the age of 34, Charlie Parker died in the suite of his friend and patron Baroness Pannonica de Koenigswarter at the Stanhope Hotel in New York City while watching The Dorsey Brothers' Stage Show on television.
The official cause of death were lobar pneumonia and a bleeding ulcer but Parker also had an advanced case of cirrhosis and had suffered a heart attack. The coroner who performed his autopsy mistakenly estimated Parker's 34-year-old body to be between 50 and 60 years of age.
Parker had been living since 1950 with Chan Richardson, the mother of his son Baird and his daughter Pree (who died as an infant of cystic fibrosis). He considered Chan his wife; however he never formally married her, nor did he divorce his previous wife, Doris (whom he had married in 1948). This complicated the settling of Parker's inheritance and would ultimately serve to frustrate his wish to be quietly interred in New York City.
It was well known that Parker never wanted to return to Kansas City, even in death. Parker had told Chan that he did not want to be buried in the city of his birth; that New York was his home. Dizzy Gillespie paid for the funeral arrangements and organized a lying-in-state, a Harlem procession officiated by Adam Clayton Powell, Jr., as well as a memorial concert, before Parker's body was flown back to Missouri, in accordance with his mother's wishes.
Parker's widow criticized Parker's family for giving him a Christian funeral even though they knew he was a confirmed atheist. Parker was buried at Lincoln Cemetery in Missouri, in a hamlet known as Blue Summit.
Parker's estate is managed by CMG Worldwide.
Charles "Charlie" Parker, Jr., also known as "Yardbird" and "Bird", was a jazz saxophonist and composer. Miles Davis once said, "You can tell the history of jazz in four words: Louis Armstrong. Charlie Parker."
Parker acquired the nickname "Yardbird" early in his career and the shortened form, "Bird", which continued to be used for the rest of his life, inspired the titles of a number of Parker compositions, such as "Yardbird Suite", "Ornithology", "Bird Gets the Worm", and "Bird of Paradise."
Read more about his amazing career & legacy at: Daily Black History Facts