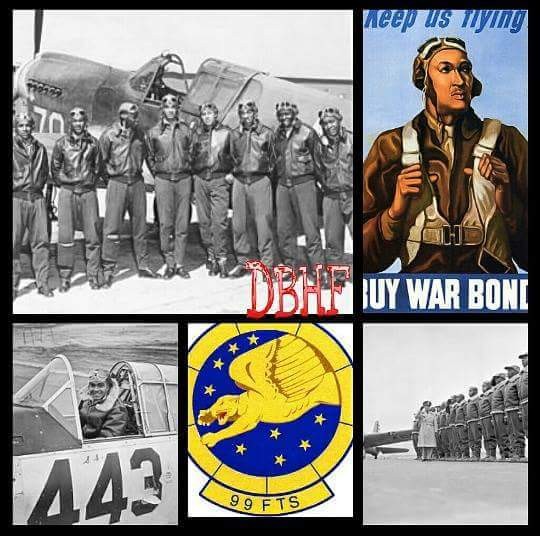 The 99th Pursuit Squadron also known as the Tuskegee Airmen, the 1st all-black unit of the Army Air Corp, is activated.
The 99th Flying Training Squadron (99 FTS) is part of the 12th Flying Training Wing based at Randolph Air Force Base, Texas. It operates T-1 Jayhawk aircraft conducting flight training. The squadron was formed during World War II as the first flying unit for African Americans. Known as the Tuskegee Airmen the unit served with distinction in the European Theater of Operations. Following the war it served as a flight training unit for four years in the 1940s until its deactivation. It was re-activated in 1988 to once again fill a flight training role.
THE FORMATION: On March 19, 1941, the 99th Pursuit Squadron was activated at Chanute Field in Rantoul, Illinois. A cadre of 271 enlisted men was trained in aircraft ground support trades at Chanute, beginning in July 1941; the skills being taught were so technical that setting up segregated classes was deemed impossible. This small number of enlisted men became the core of other black squadrons forming at Tuskegee and Maxwell Fields in Alabama.
The Tuskegee program began officially in June 1941 with the 99th Pursuit Squadron at the Tuskegee Institute. The unit consisted of 47 officers and 429 enlisted men, and was backed by an entire service arm. After primary training at Moton Field, they were moved to the nearby Tuskegee Army Air Field, about 10 miles to the west for conversion training onto operational types.
Consequently, Tuskegee Army Air Field became the only Army installation performing three phases of pilot training (basic, advanced, and transition) at a single location. Initial planning called for 500 personnel in residence at a time. By mid-1942, over six times that many were stationed at Tuskegee, even though only two squadrons were training there.
Read more amazing stories like this at: Daily Black History Facts